INTRODUCTION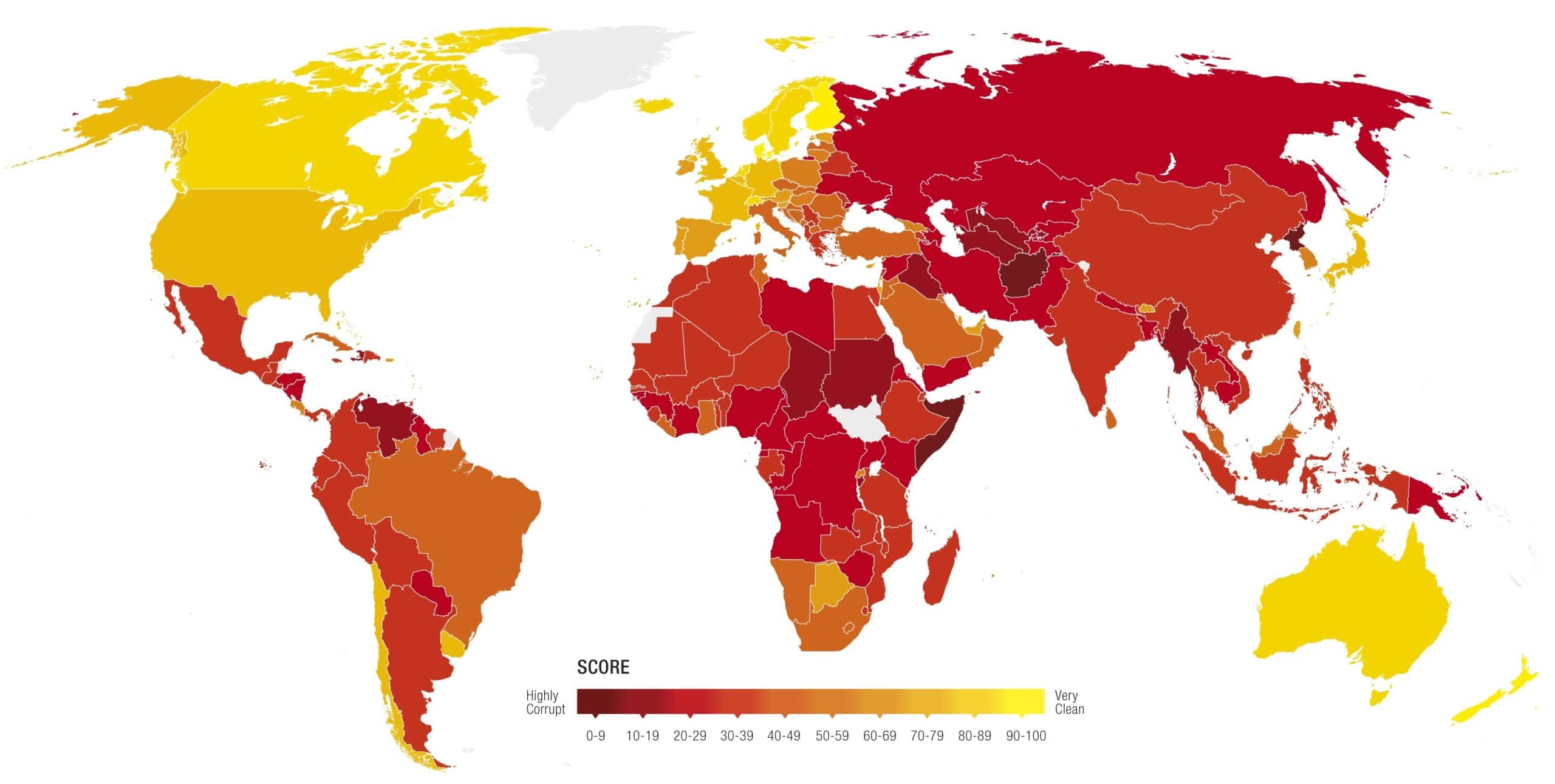 Corruption Perceptions Index 2012, via
Transparency International
.
Countries in red are perceived as more corrupt than those in yellow.
Corruption allocates resources and opportunities in ways that are unfair and inefficient. ​Transparency International, a global NGO committed to combating corruption, defines corrupt practices as: the offering, promising, accepting or soliciting of an inducement for an action which is illegal or a breach of trust. Yet corruption is found in every country, and it is widespread in some, as the map on the right shows. For this reason, corruption in general, and bribery in particular, have been topics of great interest to governments and international agencies. Bribery is defined legally (e.g., US Foreign Corrupt Practices Act (FCPA) (1977) and by regional (OECD Anti-Bribery Convention, 1997) and global compacts (UN Global Compact Tenth Principle, 2004) as a corrupt practice. Beginning in 2007, US enforcement action increased dramatically. The principle of extra territoriality embedded in the FCPA enables prosecutions of both US and non-US companies with significant business activity inside the US to be prosecuted for bribery of officials outside the US. Recent UK legislation expands the scope of bribery to include business to business extortion and kickbacks. Indeed, in the past few years anti-corruption laws have been enacted in many other countries too. Still, enforcement in many countries is poor.
Corruption occurs in many contexts and institutions, including government, the military, and even religious institutions. On this page we focus on corruption involving global business dealings.
---
CONTENTS
---
IDEAS TO APPLY (Based on research covered below)
Establish countermeasures to address governance issues. Corruption is often a proxy for a broad range of governance issues (Kaufmann, et.al). For international organizations, it often manifests as the result of efforts to harmonize differing cultural norms regarding business compliance and social responsibility requirements (such as improving human rights, attacking poverty, and responding effectively to climate change; see OECD Anti-Bribery Convention, UN 10th Principle).
Understand what corruption levels mean about governments. For example, with respect to national governments, corruption levels are an indicator of the efficiency and reliability of government administration (i.e., higher levels of corruption indicate less efficiency and reliability). Corruption levels also reveal the extent of the rule of law in individual jurisdictions, and a nation's capability for real growth and the standards of governance needed to achieve it (FCPA, UK Bribery Act).
Prioritize anti-corruption programs in international operations The effectiveness of anti-corruption programs in global business organizations is a measure of their commitment to other ethical outcomes, such as improving global supply chain working conditions (see Rose-Ackerman and Ioannou & Serafeim).
---
​
AREAS OF RESEARCH
How is corruption tied to democratization and international economic development? In the second half of the 20th century, changes in the concept of corruption mirrored increased interest in issues of democratization and economic development. These trends resulted in an increasing focus, beginning in the 1980s, on misconduct in the performance of official duties. A key element in this change of focus has been the development of indicators that link corruption levels to overall governance quality across nations. Much of this effort has focused on corruption's negative impact on growth, investment and government expenditure and on its effects in widening income inequality and slowing efforts to address poverty. Beginning with the passage of the US Foreign Corrupt Practices (FCPA) in 1977, national, regional, and international initiatives have developed a global enforcement regime to address these problems.
How can large multinational companies in developing nations develop their own anti-corruption practices? The number of large multinational companies based in developing nations has been increasing rapidly in recent years. A new area of research is how they develop their own anti-corruption practices. A 2013 report from Transparency International found that these companies score, on average, much worse than multinationals generally (average transparency score of 3.6 out of 10, compared to 4.8 out of 10, from a 2012 report on the world's 105 largest companies, most of which are Western); however, there is a great deal of variation across nations, with India doing better than average, and China doing worse.
How does a nation change its culture, when corruption is part of the culture? Sometimes shame and ridicule from other nations can help. Anthony Appiah's book The Honor Code shows how ridicule from Western nations caused Chinese elites to abandon the crippling practice of binding their daughters' feet. The same desire for national respect may now be driving nations such as Brazil to change the way their companies do business. As reported in the Wall St. Journal, "

If a new law is passed in the U.S., the typical chief executive will contact his legal and compliance departments about how to fall in line, he said. In Brazil, on the other hand, the CEO will call on his executives to ask "to find a way to avoid it."" But this may be changing with Brazil's probe into bribery by Embraer: "Brazilian leaders also recognize that clamping down on corruption is an important element of gaining respectability as a world power. The Embraer probe is especially significant because Brazil has never before prosecuted an individual for paying bribes overseas."

Maps such as those produced by Transparency International, above, may be very helpful in motivating leaders to crack down on corruption.
---
CASE STUDIES
Challenges and Failures
Corruption is often a function of the opportunities that incentives provide. For examples of how misaligned incentives encourage corrupt practices in business organizations, see Youndahl, 2013 and Mazur, Amir and Ariely, 2008. For a case study on how "state capture" in emerging economies and political systems offer opportunities for corruption at the governmental level, and how such corruption interferes with political development, see Black, Kraakman and Tarissova (2000). For a discussion of the extent to which the FCPA has succeeded or failed in providing negative and positive incentives for company resistance to corrupt practices, see Hinchley, 2010. For an exploration of unintended and undesirable consequences of FCPA enforcement, see Spalding (2010).
Successes
For a case statement of why and how anti-corruption needs to be embedded in a company's ethical principles, see Rose-Ackerman (1999). Positive examples demonstrating how social reporting can improve a company's ethical performance in the area of anti-corruption are found in Ioannou and Serafim, 2011.
---
OPEN QUESTIONS
For Governments:
What should be the legal exposure of companies and employees for the corrupt conduct of independent agencies and other third parties?

How can organizations such as the UN and OECD contribute to the development of a global anti-corruption regime—one that encourages enforcement in lagging nations, and one that harmonizes differing legal formulas, enforcement mechanisms, and embedded cultural behavior?
For Companies:
How do global businesses and Small and Medium Enterprises (SMEs) in different legal systems and business cultures design, implement, and monitor systems that promote compliance with the developing global anti-corruption regime?

How can companies design compliance systems for limiting legal and reputational risk for the corrupt conduct of third parties?

(Note that many of the issues for companies are addressed on our Compliance and Ethics page.)
For Researchers and Teachers:
How can the global anti-corruption regime improve its effectiveness in reducing corruption's impact on human rights and economic development?

How can global business organizations and small and medium size enterprises collaborate to develop more effective systems for resisting corrupt practices?

Can a single toolkit be developed for global use in teaching students and future leaders how to create ethical businesses that are resistant to corruption?
---
TO LEARN MORE
Articles
Other Resources
The University of Richmond School of Law, Anti-Bribery Law in International Business. Provides a list of resources for researching various legal topics relating to anti-bribery law in international business.
Georgetown University Law Library, International Anti-Corruption Law Research Guide. A guide to "electronic and print resources on corruption law [and touching] on a wide variety of issues including money laundering, government transparency, organized crime, trade and investment regulations."
Relevant Images and Videos
For a list and links to Transparency International's recommended anti-corruption videos, like PBS's "Cameroon: Pipeline to Prosperity?" and more go here.

In a TED talk, Peter Eigen, founder of the Advisory Council of Transparency International, discusses the global economy, the failure to govern it, and his fight against corruption:

Kofi Annan, Chair of the Africa Progress Panel and former Secretary-General of the UN, talks about the ongoing fight against corruption:

Jeffery Sachs appears in a short video titled "Supply Chain Reaction" that explores the growing power consumers have to punish corrupt, unethical behavior and reward ethical behavior occuring along product supply chains.

"The shirt on your back: the human cost of the Bangladeshi garment industry" webpage provides a stunning multimedia experience that tells the tragic story surrounding the Rana Plaza collapse and the garment industry in Bangladesh.

For stories of how corruption is being alleviated through corporate-community dialog in Peru, the Philippines, and Nigeria watch these videos by Access Facility (part of the Corporate Social Responsibility Initiative at the Harvard Kennedy School on behalf of the former Special Representative of the United Nations Secretary-General for Business and Human Rights, Professor John Ruggie).
Watch more on important topics in the area of corruption, from the UN's PRME (which Ron Berenbeim is a part of), to the FCPA, the UK Bribery Act, as well as a handful of other documentaries reporting on corruption around the world, and more at our Corruption playlist, at the Ethical Systems YouTube channel.
This page is edited by Ron Berenbeim. Other researchers may have contributed content.
======================================
Miscellaneous Links & References
(This is where other contributors might list relevant links/references they come across.)
See our blog post from 12/9/13 regarding an experiment in India showing how a systems approach to conflicts of interest can reduce corruption in the practice of auditing.
Rachel Louise Ensign, "Global Anti-Corruption Push Means New Penalties," The Wall Street Journal, October 29, 2013.
Johnson, N.D., Ruger, W., Sorens, J. and Yamarik, S. Corruption, Regulation, and Growth: An Empirical Study of the United States. Economics of Governance, August 2013 (finding that corruption in U.S. states with more costly regulatory regimes is, on average, less costly than in states with less regulation).

AlixPartners 2012 Global Anti-Corruption Survey: Insights for General Counsels and Compliance Executives.

Heeks, R. & Mathisen, H. (2012). Understanding Success and Failure of Anti-Corruption Initiatives, Crime, Law and Social Change, 58(5), 533-549.

Rose-Ackerman, S. & Truex, R. (2012). Corruption and Policy Reform, Yale Law & Economics Research Paper No. 444.

Pacini, C. (2012). The Foreign Corrupt Practices Act: Taking a Bite out of Bribery in International Business Transactions, Fordham Journal of Corporate & Financial Law, 17(2).​
https://www.ethicalsystems.org/wp-content/uploads/2013/07/Research-page-pics_corruptionmap-scaled.jpg
1291
2560
David Dobolyi
https://ethicalsystems.org/wp-content/uploads/2020/04/ES-logo-final-white.gif
David Dobolyi
2013-07-26 05:07:49
2020-04-08 03:29:24
Corruption