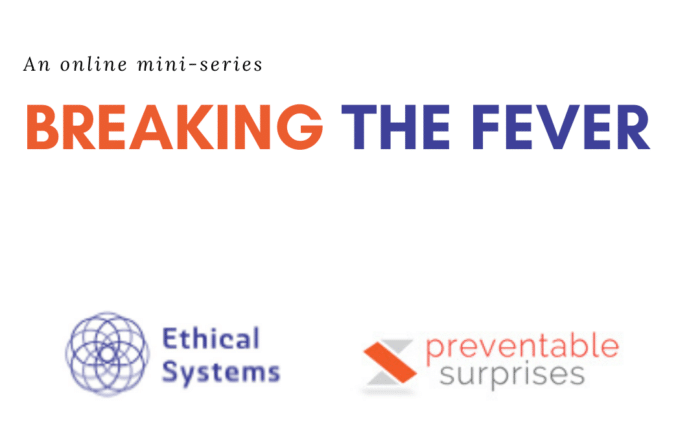 Preventable Surprises and Ethical Systems are delighted to announce that our "Breaking the Fever" online webinar series is now a podcast!
"Breaking the Fever" was our response to a call for community conversations. Now we're sharing our learnings and brilliant speakers with a larger audience. The full series is available on Spreaker.
Listen to "Breaking The Fever" on Spreaker.
The COVID-19 pandemic is a global crisis that accelerates many of the societal, environmental, political, and technological shifts already under way. In other words, it is a period of profound instability. Many are scrutinizing the behavior of business and finance leaders as they try to navigate this challenging environment. With crisis comes opportunity for those with the right intentions.
What are the most promising ways we can positively shape our post-pandemic planet? Find out with us as we continue to invite thoughtful and creative experts from a broad range of domains. From Gray Rhino author Michele Wucker to futurist Ben Hammersley, from emerging-markets innovation expert Gillian Marcelle to labor leader Damon Silvers, from biodiversity with Jill Atkins to geopolitical risks with Charles Hecker, we leave no stone unturned. We are very excited about our upcoming conversations.
Past and future sessions will now be available from https://www.spreaker.com/show/breaking-the-fever and your usual podcast providers.
In addition to our LinkedIn Group, please also follow our new Twitter account for updates.
For those enjoying the interaction, we will continue to record Breaking the Fever most Tuesdays at 11am EST (8am PT, 4pm GMT, 5pm CET).
Past episodes:
In episode 17, author Margaret Heffernan discusses what it takes for people and organizations to navigate uncertain times? Margaret Heffernan https://mheffernan.com took @breaking_fever on a wild ride on the occasion of the US September release of her latest book, Uncharted.
In episode 16, Ayin Jambulingam, a leadership and culture consultant, discusses how Asian cultures have approached the virus, and what that tells us about the future.
In episode 15, Rob Brotherton, a psychologist and science journalist, discussed the pandemic and conspiracy theories.
In episode 14, Akash Goel, Assistant Professor of Medicine at Weill Cornell Medical Center and human rights advocate, spoke to us about the medical response and food system in the United States, as well as poverty, purpose and dignity after #Covid19.
In episode 13, Gabriel Filippelli, Chancellor's Professor of Earth Sciences and Director, Center for Urban Health at Indiana University-Purdue University Indianapolis, discussed the pandemic and climate change, and what the climate movement can tell us about societal responses to systemic risks.
In episode 12, Jenny Vaughan, human rights director at BSR, talked about how responses to the crisis look from the perspective of business and human rights, and how organizations can built resilience by tackling systemic risks.
In episode 11, Navtej Sarna, former Indian Ambassador to the United States , spoke about the impact of the pandemic on Indian society, and diplomatic, cultural, and economic relations between India, the U.S., and the world.
In episode 10, JS Nelson, associate professor of law at Villanova University, spoke about her work on surveillance, management culture, and compliance. The workplace has seen a striking acceleration of surveillance-led management over the past several years, and the pandemic has given these efforts more momentum. Nelson described why surveillance can often be counterproductive to effective organizational culture, human agency, and human rights, defending the imperative to resist unnecessary surveillance.
In episode 9, Preventable Surprises CEO Jerome Tagger presented the results of a survey of ESG influencers on the response to Covid-19. Raj Thamotheram engaged Prof Hans. V Hogerzeil, Chair, Expert Review Committee of the Access to Medicine Index, formerly WHO Director for Essential Medicines and Pharmaceutical Policies on the pharmaceutical industry's response to Covid-19.
In episode 8, Peter Christian Hall spoke about his 2012 novel, American Fever: A Tale of Romance and Pestilence. In this episode, we talk about fiction, history, the lived experience, and how to navigate the medical and political unknown in the coming weeks and months. Or, as one listener said, this is the "I need a Valium" episode.
In episode 7, Charles Green, CEO, Trusted Advisors Associates, put people back at the center of the trust equation and discussed why trust is so widely misunderstood and mischaracterized. A fascinating look at what it takes to give, and to receive, trust, in fractured times.
In episode 6, Dr. Jill Atkins, Chair in Financial Management, Sheffield University Management School, outlined a global agenda for finance, business, and biodiversity. The pandemic is finally bringing business and investor attention to biodiversity issues, which are comparable in scale and impact to the climate crisis, and have many of the same root causes.
Episode 5 featured Damon Silvers, special counsel at the AFL-CIO. From the echoes of corporate power in the 1920's to the reverberations of the 2008 crisis, from workers' rights to instability of the financial system, this was an exciting journey through the past and future of the labor market. One takeaway: America's economic system was built to fail its people in a pandemic.
In episode 4, we welcomed futurist Ben Hammersley. Visions of the future are linear narratives, but reality is more complex. The future is not a destination, but people will sell it that way. Rather than make predictions about facts, it's best to develop frameworks that help organizations prepare for changes and shared mental models to equip people to respond to events…and many more nuggets and illustrations. Michele Wucker joined the discussion. Read: "It's the Trolley Problem, Stupid!" a follow up post Ben wrote with Preventable Surprises Founder Raj Thamotheram.
In episode 3, we featured Charles Hecker, Global Research Director at Control Risks. Charles is responsible for Control Risks' thought leadership on geopolitics, global security, political risk, and their impact on international business, including the annual RiskMap process. He led a nuanced discussion on how COVID-19 affects political and security risk dynamics in 2020, revisiting Control Risks' 2020 Riskmap in light of these developments.
In episode 2, Gillian Marcelle, PhD, Managing Member of Resilience Capital Ventures LLC, a blended finance and international development expert, led a conversation on reframing investment and finance using concepts drawn from her work on innovation, resilience and systems change. She suggests that the public health crisis provides a unique opportunity to challenge existing orthodoxies in finance and investment. By changing the search algorithm used to identify solutions, and recognizing value of a greater variety of knowledges and experiences, humanity might expand the solution space in the health domain and produce more integrative approaches to wellness and resilience. Read her thoughts.
Opening the series was Chicago-based strategist Michele Wucker, author of the international bestseller THE GRAY RHINO: How to Recognize and Act on the Obvious Dangers We Ignore. Her recent Washington Post article, "No, the coronavirus pandemic wasn't an 'unforeseen problem'" challenges the idea that the virus and related market meltdown are "black swan" events that "nobody saw coming." We re-recorded this episode on May 18th.
About Ethical Systems
Ethical Systems (www.ethicalsystems.org) is founded on the conviction, backed by research, that in the long run, good ethics is good business. Our collaborators are top researchers—most of them are faculty at leading business schools—who believe that wise leaders take a holistic, systematic approach to organizational culture in order to foster greater integrity in business. Housed in NYU Stern's Business and Society Program, Ethical Systems's mission is to harness research, from leaders in academia, to transform the ethical practice of business in the corporate world.
About Preventable Surprises:
Preventable Surprises is an independent think/do tank focused on systemic sustainability risk in the financial system. It is a trusted space for thought leaders and ESG professionals who seek to persuade institutional investors to accept their fiduciary responsibility to mitigate systemic risks… before the next preventable surprise. www.preventablesurprises.com
Contact: jerome@preventablesurprises.com
https://www.ethicalsystems.org/wp-content/uploads/2020/04/BREAKING-THE-FEVER-e1585345307130.png
441
700
Ethical Systems
https://ethicalsystems.org/wp-content/uploads/2020/04/ES-logo-final-white.gif
Ethical Systems
2020-06-03 23:55:43
2020-09-01 17:11:17
"Breaking the Fever" Is Now a Podcast