Breaking the Fever Webinar Series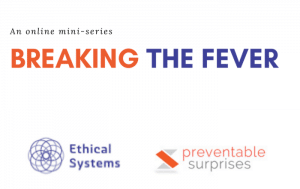 Preventable Surprises and Ethical Systems are pleased to invite you to Breaking the Fever, an online mini-series. We are convening thoughtful and creative experts to stimulate ideas on what we can do as individuals and institutions to tame the pandemic today and to make our societies and economies more resilient tomorrow. We will shortly be launching a podcast version of Breaking the Fever. Stay tuned!
Breaking the Fever takes place on Tuesdays at 11am EST (8am PT, 4pm GMT, 5pm CET). Join our LinkedIn Group for updates.
And here's a preview of our upcoming episodes, all at 11 AM (EST):
On 26 May: Raj Thamotheram, founder and senior advisor, Preventable Surprises, on responsible investment and COVID-19.
On 2 June: Josephine Nelson, associate professor of law at Villanova University on corporate surveillance and human rights, on how pandemics present an escalation of existing managerial trends.
On 9 June: Navtej Sarna, former Indian Ambassador to the US, on the pandemic and diplomatic, cultural and economic relations between India, the United States and the world. https://lnkd.in/eEfu6Mq
On 16 June: Jenny Vaughan, Human Rights Director at BSR (registration coming soon)
Past Episodes:
On 19 May, Peter Christian Hall, author of American Fever: A Tale of Romance and Pestilence, gave us a dark take on pandemics, social change and imagining dystopia. You can listen to the recording here.
On 12 May, Charles Green, CEO of Trusted Advisor Associates and Ethical Systems advisory board member spoke on our current trust crisis and why trust is so misunderstood. Here's the recording.
On 5 May, Dr Jill Atkins, Chair in Financial Management, Sheffield University Management School, spoke to us about COVID-19, biodiversity and the private sector. She was joined by Maria Lettini, CEO of the FAIRR Initiative. The recording is here.
On April 28th we were thrilled to welcome Damon Silvers, Director of Policy and Special Counsel for the AFL–CIO, a federation of unions in the U.S. Silvers described his ideas for the future of the labor market, and the lessons the 2008 economic crisis offered. You can listen to the recording of his talk here and read his great Medium post on the future of the labor market here.
Breaking the Fever on 23 April featured Ben Hammersley on "How Not To Be Super Wrong About Unknowable Things: Caveats, heuristics, and upsetting truths about thinking about The Future." People concerned with sustainability and resilience spend a lot of time thinking about what the future will look like. But what can we know? Here's the recording.
Our April 14th episode featured Charles Hecker, Global Research Director at Control Risks. Charles is responsible for Control Risks' thought leadership on geopolitics, global security, political risk and their impact on international business, including the annual RiskMap process. He led a nuanced discussion on how Covid-19 affects political and security risk dynamics in 2020, revisiting Control Risks' 2020 Riskmap in light of these developments. Listen to the recording.
On April 7th, we were delighted to welcome Gillian Marcelle, PhD. a blended finance and international development expert, who led a conversation on reframing our shared understanding of innovation, resilience and systems change. Read her thoughts or listen to the recording.
Opening the series on March 31st was Chicago-based strategist Michele Wucker, author of the international bestseller THE GRAY RHINO: How to Recognize and Act on the Obvious Dangers We Ignore. Her recent Washington Post article, "No, the coronavirus pandemic wasn't an 'unforeseen problem'" challenges the idea that the virus and related market meltdown are "black swan" events that "nobody saw coming."
Useful readings and videos:
The US National Intelligence Council 2017 report had concerns about pandemics:
https://www.dni.gov/files/documents/nic/GT-Full-Report.pdf
The Great Lockdown: IMF's world economic outlook (April 2020):
Countries without lockdowns are in a state of economic free fall too (paywall):
https://www.wsj.com/articles/the-false-choice-between-lockdowns-and-the-economy-11586164745
Jane Goodall on Covid-19 as an opportunity to rethink our relationship to the natural world:
https://slate.com/technology/2020/04/jane-goodall-coronavirus-species.amp
Impact of non-pharmaceutical interventions:
https://necsi.edu/review-of-ferguson-et-al-impact-of-non-pharmaceutical-interventions
Duncan Austin's early warning on flattening the curve:
https://www.linkedin.com/posts/activity-6643495578170859520-N7Ez
Michele Wucker on the information we choose to share:
https://www.linkedin.com/pulse/covid-19-infodemic-michele-wucker-/
Peter Christian Hall on the decisions we face: https://www.youtube.com/watch?v=8paxHxDh1u4
Margaret Heffernan on wilful blindness: https://jerichochambers.com/jericho-conversations-what-were-learning/
Psychology of Isolation and quarantine:
https://www.thelancet.com/journals/lancet/article/PIIS0140-6736(20)30460-8/fulltext
Parenting and the workplace in confinement:
https://forge.medium.com/the-invisible-struggles-of-working-parents-are-now-live-in-video-chat-1734aa97bdc9
Yuval Hariri on the world after Coronavirus:
https://www.ft.com/content/19d90308-6858-11ea-a3c9-1fe6fedcca75
More on the long term changes in motion:
https://jfsdigital.org/2020/03/18/neither-a-black-swan-nor-a-zombie-apocalypse-the-futures-of-a-world-with-the-covid-19-coronavirus/ (highly recommended)
https://theconversation.com/coronavirus-three-ways-the-crisis-may-permanently-change-our-lives-133954
https://www.politico.com/news/magazine/2020/03/19/coronavirus-effect-economy-life-society-analysis-covid-135579
https://www.foreignaffairs.com/articles/2020-03-18/coronavirus-could-reshape-global-order
https://ethicalsystems.org/wp-content/uploads/2020/04/ES-logo-final-white.gif
0
0
Ethical Systems
https://ethicalsystems.org/wp-content/uploads/2020/04/ES-logo-final-white.gif
Ethical Systems
2020-04-01 18:32:51
2020-06-10 00:07:46
Breaking the Fever Webinar Series