Tag Archive for:
bounded ethicality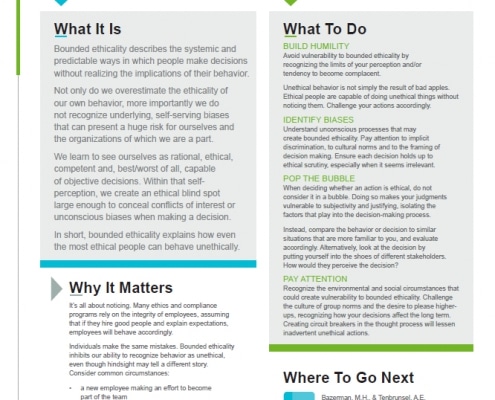 It is no secret that behavioral science can be chock full of terms that, while widely recognized in our community, may still present some confusion among practitioners. To that end, in partnership with the Notre Dame Center for Ethical Leadership, Ethical Systems has created the first in an ongoing series of downloadable one-sheets designed to demystify and connect behavioral science concepts to daily workflow and organizational cultures across the world.
https://www.ethicalsystems.org/wp-content/uploads/2016/09/files_boundedethicality_0.jpg
1021
666
Jeremy Willinger
https://ethicalsystems.org/wp-content/uploads/2020/04/ES-logo-final-white.gif
Jeremy Willinger
2016-09-06 16:03:15
2020-03-26 16:57:21
New Behavioral Science One Sheets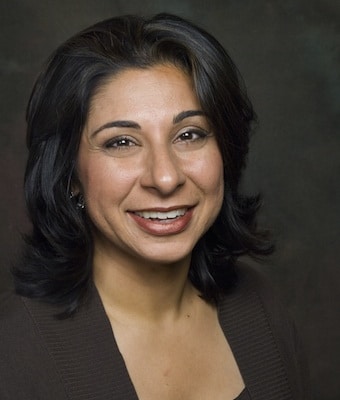 Interview with Dr. Dolly Chugh, Associate Professor in the Department of Management and Organizations, NYU Stern School of Business. [Find Dolly on Twitter]

What are your main areas of research? How can people better be attuned to their bounded ethicality?
I have always been fascinated by the three dimensional reality of human behavior. That is, none of us are perfectly ethical all of the time, and it's that reality that I am most interested in. In what ways are we less ethical and less egalitarian than we intend to be? Under what conditions? Why? Those questions lie at the heart of my work on bounded ethicality, which refers to the systematic and ordinary psychological constraints on our ethical behavior.
https://www.ethicalsystems.org/wp-content/uploads/2015/09/Head-shots_dchugh2.jpg
512
340
Dolly Chugh
https://ethicalsystems.org/wp-content/uploads/2020/04/ES-logo-final-white.gif
Dolly Chugh
2015-09-24 20:24:04
2020-03-26 16:58:13
Featured Collaborator for October: Dolly Chugh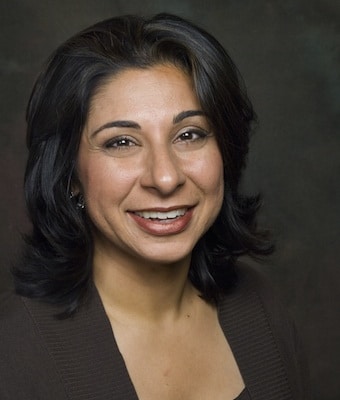 Tigran W. Eldred, Associate Professor of Law, New England Law | Boston Almost a decade ago, shortly before I started law teaching, I worked as an appellate lawyer representing clients who had been convicted of serious crimes. In one case,…
https://ethicalsystems.org/wp-content/uploads/2020/04/ES-logo-final-white.gif
0
0
Tigran Eldred
https://ethicalsystems.org/wp-content/uploads/2020/04/ES-logo-final-white.gif
Tigran Eldred
2014-12-29 14:42:14
2020-03-26 16:59:56
Teaching Behavioral Ethics across Disciplines