Tag Archive for:
Business;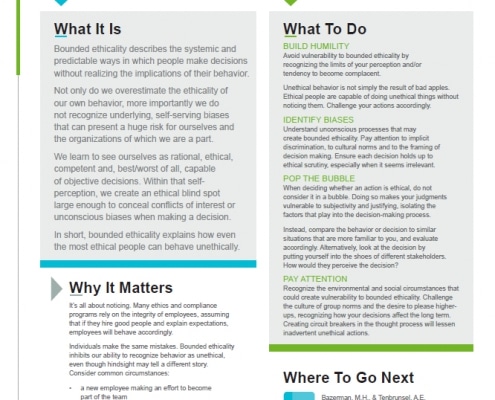 It is no secret that behavioral science can be chock full of terms that, while widely recognized in our community, may still present some confusion among practitioners. To that end, in partnership with the Notre Dame Center for Ethical Leadership, Ethical Systems has created the first in an ongoing series of downloadable one-sheets designed to demystify and connect behavioral science concepts to daily workflow and organizational cultures across the world.
https://www.ethicalsystems.org/wp-content/uploads/2016/09/files_boundedethicality_0.jpg
1021
666
Jeremy Willinger
https://ethicalsystems.org/wp-content/uploads/2020/04/ES-logo-final-white.gif
Jeremy Willinger
2016-09-06 16:03:15
2020-03-26 16:57:21
New Behavioral Science One Sheets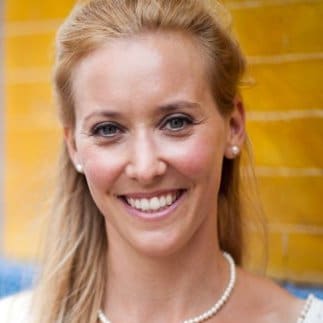 Interview with Dorothee Baumann-Pauly, Research Director at the NYU Stern Center for Business and Human Rights
How does your work on human rights help companies that want to improve themselves as ethical systems?
In contrast to the more established, yet still vague framework, of corporate social responsibility (CSR), business and human rights (BHR) explicitly focuses on aligning companies' core business processes with their commitment to human rights. Thus, BHR asks how companies are making their money, not how they are spending it. Human rights challenges are real for multinational companies; they pose major business risks to their operations. Companies today are expected to commit to respecting human rights in their business operations, and they need concrete standards that clarify what this commitment means in their operational context. The requirement to report against a specific standard increases transparency over a corporation's human rights conduct and creates incentives to develop enduring ethical systems.
https://www.ethicalsystems.org/wp-content/uploads/2016/02/Head-shots_DorotheeBaumannPauly.jpg
323
323
Dorothee Baumann-Pauly
https://ethicalsystems.org/wp-content/uploads/2020/04/ES-logo-final-white.gif
Dorothee Baumann-Pauly
2016-02-24 18:41:21
2020-03-26 16:57:36
Featured Collaborator for March: Dorothee Baumann-Pauly