2017 Ethical Systems Collaborator Highlights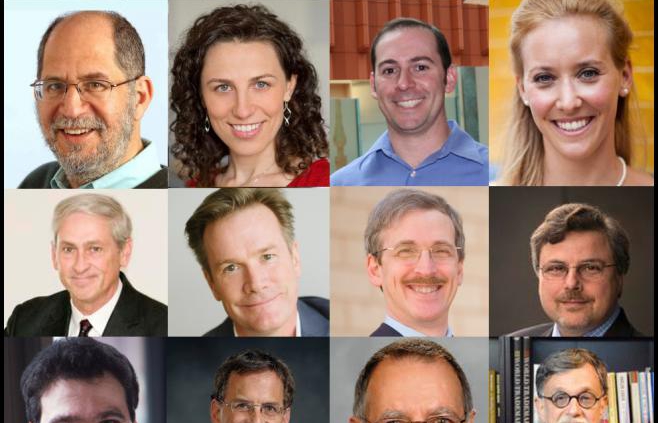 For our expanding collaborator network, 2017 was a year of many achievements, significant contributions to research, and broad recognition of their work. We invite you to browse a highlight list of the research, articles, appearances and talks that helped advance our mission and promote a greater understanding of ethics, decision making, and systems thinking.
Dan Ariely published and co-published a variety of studies on short-term motivations for employees, using behavioral economics in heart patients, and behavioral science interventions in medical settings.

He was also interviewed across a wide range of media on the benefits of behavioral economics and understanding decision making in organizations.

Max Bazerman was the first behavioral science expert featured in our "Ask an Ethics Expert" feature.

His research was cited over 1,700 times this year on Google Scholar.

Ron Berenbeim delivered a presentation to the TI Business Principles Steering Committee of which he is a member. He also provided the keynote address to the Bangalore Conference.

In addition, he delivered a presentation on Anti-Corruption Working Group activities at the UN Global Compact Prime Summit as well as a presentation to the UNODOC Conference in Vienna.

Steve Blader, with Nicholas Hays, published a study in the Journal of Personality and Social Psychology exploring the connection between status and charitable giving.


His research was cited more than 700 times this year, according to Google Scholar.

Robert Bloomfield published the second edition of his study "What Counts and What Gets Counted".

His research was cited over 400 times this year according to Google Scholar.

Daylian Cain was named one of the 2017 "Industry Leaders" by the Committee for the Fiduciary Standard, for his work on Conflicts of Interest and Disclosure.

He also served as an Ethics Expert on our "Ask an Ethics Expert" feature.

Cain also gave an invited pre-seminar talk to the Society for Personality and Social Psychology Judgment and Decision Making area called "Paying People to Look at the Consequences of their Actions"

Dolly Chugh was Faculty Speaker Professor at Stern's 2017 Graduate Convocation and took a sabbatical to work on an upcoming book currently titled The Person You Mean To Be (forthcoming from HarperCollins in September 2018) and teach in a men's prison.

Nicholas Epley published a range of studies on self-righteousness, perception and other topics.

He also has two working papers in press, the first on "Treating ethics as a design problem," for the Behavioral Science and Policy and the second, "The humanizing voice: Speech reveals, and text conceals, a more thoughtful mind in the midst of disagreement," for Psychological Science.

His research was cited more than 1,300 times in Google Scholar this year.

Robert Frank spoke on "Why Luck Matters More than You Might Think" at College of the Holy Cross.

Francesca Gino published research in Scientific American on why we tend to excuse dishonest acts if they were done creatively.

She, along with other researchers, also published a study in the Journal of Marketing Research on 'Be Careless with That!' Availability of Product Upgrades Increases Cavalier Behavior Toward Possessions.

Lastly, Gino led a new Executive Education course, Driving Profitable Growth, at Harvard Business School.

Adam Grant published Option B with Sheryl Sandberg. He was interviewed about the ideas in the book in a wide variety of outlets.

He also started a column with Esquire interviewing notable figures on leadership and motivation and published a variety of op-eds in The New York Times on networking and the benefits of quarrelling.

Grant was also interviewed by NPR about why/how downsizing a company can backfire.

Jonathan Haidt published a cover article in Nature: Human Behavior with Linda Trevino on "Making Business Ethics a Cumulative Science" as well as a blog with Azish Filabi for the World Economic Forum on "Ethical systems design: what smart leaders are using to improve their organizations (and the world)"

He also launched a YouTube channel with assorted videos of talks, interviews and presentations.

David Hirshleifer published a study on "How Psychological Bias Shapes Accounting and Financial Regulation," with Siew Hong Teoh, in Behavioral Public Policy.

He also has two forthcoming studies, including one on "Opportunism as a Managerial Trait: Predicting Insider Trading Profits and Misconduct, with Usman Ali, in Journal of Financial Economics as well as a study on "Superstition and Financial Decision Making," with Jian Ming and Huai Zhang, in Management Science.

Marc Hodak moderated a panel on "Emerging Trends in Ethics and Compliance" at the Institute for Excellence in Corporate Governance on April 12

Robert Hurley lead a session on trust repair with the Chief Communications Officer at Wells Fargo at the Conference Board Corporate Communications conference in May.

He also published a book chapter entitled: The Production and Reproduction of Trust Violations: An Exploration of Theory and Practice in Universal Banks Prior to the Global Financial Crisis.

Hurley presented "Trust, Culture and Organizational Drift" to Compliance Professionals at the Conference Board June 2017. Here are the results from a survey of compliance professionals about the pressures that cause drift, how we can notice it and what we can do about it.

Lastly, he also conducted a Webcast for the Conference Board on "Culture and Organizational Drift as a root cause of the Wells Fargo, Volkswagen and other trust violations".

Jeffrey Kaplan published, with Azish Filabi, Head to Head: A conversation on behavioral science and ethics, a new eBook created for anyone interested in improving the effectiveness of compliance and ethics (C&E) programs in organizations.
Jim Lager was the December collaborator for our "Ask an Ethics Expert" feature.

Dave Mayer published a range of pieces in Fortune (on politics), Harvard Business Review (on advocating for women at work) and for the Ross School of Business website (on the attitudes in Houston towards pastor Joel Osteen).

He was also quoted in an array of articles, including those in the Los Angeles Times and The Washington Post (1, 2) on trending news topics related to ethics and politics.

His work was also cited more than 1,100 times in Google Scholar this year.

Celia Moore was welcomed as an Ethical Systems collaborator and co-led a workshop with Azish Filabi on "Measuring Ethical Culture: An opportunity to demystify and improve culture in your organization" at ECI's annual conference.

Hal Movius released a new book Resolve: Negotiating Life's Conflicts with Greater Confidence.

He was also interviewed by Slate and the Toronto Star and wrote a piece on "Productive Ways to Get Confrontational at Work" for Fast Company.

Movius also gave an invited talk at the Program on Negotiation at Harvard Law School.

Marshall Schminke was welcomed as an Ethical Systems collaborator after serving on the Ethical Culture Working Group.

Ann Tenbrunsel was featured with others as "pioneering women faculty" at Notre Dame.

Linda Trevino published a cover article in Nature: Human Behavior with Jon Haidt on "Making Business Ethics a Cumulative Science"

The 7th edition of her seminal textbook, Managing Business Ethics, is scheduled to be published next year.

She also published an article with colleagues, Jennifer Eury, Glen Kreiner, & Dennis Gioia on alumni reactions to scandal in the Academy of Management Journal.

Trevino published an article with colleagues Niki Den Nieuwenboer and Joao Vieira da Cunha on the role of middle managers in contributing to unethical behavior in organizations in Organization Science.
---
Additional Resources:

Support Ethical Systems and help us make ethics easy.
https://www.ethicalsystems.org/wp-content/uploads/2017/12/Head-shots_MONTAGE2017.jpeg
1200
658
Jeremy Willinger
https://ethicalsystems.org/wp-content/uploads/2020/04/ES-logo-final-white.gif
Jeremy Willinger
2017-12-08 16:14:31
2020-03-26 16:56:34
2017 Ethical Systems Collaborator Highlights