INTRODUCTION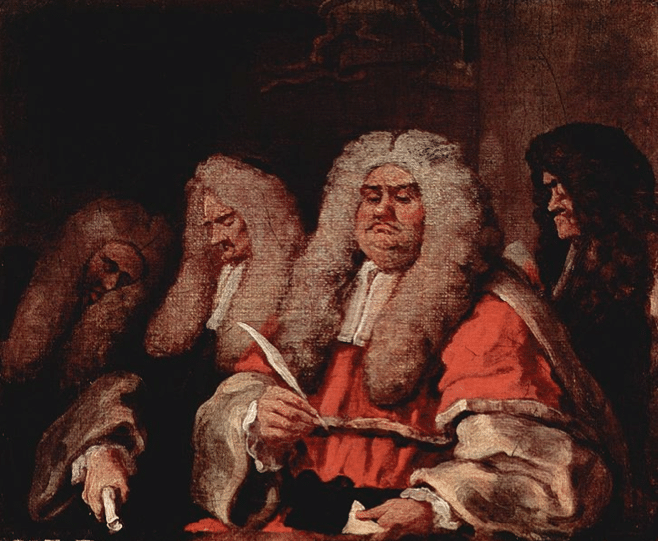 Image: William Hogarth, "The Bench," via Wikipedia.
Most of our research pages focus on the behavior of individuals, and the ways that individuals interact within companies. But the companies themselves are embedded in a network of laws and institutions that create the "ecosystem" within which firms compete and cooperate. On this page we describe some of the most influential U.S. laws that were designed to promote ethical behavior, as well as certain general legal phenomena—i.e. principles of interpretation or practices in enforcement applicable to a wide array of laws—that help shape the ecosystem of business.
Note: This page differs from others on the site in that it is not a summary of empirical research, nor does it offer specific ideas to apply. It is rather a primer, giving an overview of the most important laws under which businesses and business people are prosecuted. For advice on how businesses should respond to these laws, please see our Compliance and Ethics page.
---
CONTENTS
Issues to Understand in the Application of Business-Crime Related Laws
Questions to Ask About Your Organization
---
MAJOR LAWS
Some of the major laws and governmental rules in the USA designed to promote ethical behavior by business people and organizations are:
The False Claims Act (1863). This Civil War era law—which was amended in 1986—has been the principal legal vehicle for punishing and seeking damages from those who fraudulently bill the government (including but not limited to defense contractors and health care providers). For more information see:
Antitrust Laws. Antitrust laws are primarily concerned with the following types of business conduct: monopolization; "horizontal restraints" (such as price fixing among competitors), which are considered "per se" violations; "vertical restraints" (such as resale price maintenance), which, unlike horizontal restraints, are generally subject to a "rule of reason" standard of review by courts; and "unfair competition." For more information see:

The Securities Act (1933) and the Securities Exchange Act (1934). These two laws mandate various disclosures in connection with the trading of securities and the latter also established the Securities and Exchange Commission to enforce such requirements. For more information see:

Foreign Corrupt Practices Act (FCPA, 1977) (see our page on corruption).

U.S. Federal Sentencing Guidelines, (1987, 1991). The Federal Sentencing Guidelines ("FSG')—which were established pursuant to the Sentencing Reform Act of 1984—are relevant to Ethical Systems in two distinct ways. First, they have generally led to harsher sentences for individuals and business organizations convicted of federal offenses. Second, the Federal Sentencing Guidelines for business organizations—particularly after the FSG were amended in 2004—have incentivized businesses to implement ethics and compliance programs. For more information see our ethics and compliance programs page and:

Sarbanes-Oxley (2002) The Sarbanes-Oxley Act of 2002 (often referred to as "SOX") provides the foundation for much regulation of publicly traded companies, including requirements concerning internal controls, financial disclosures, codes of conduct, responsibilities of board of directors and encouragement of whistleblowing. In addition to directly regulating public companies, SOX seeks to promote ethical conduct in connection with the sale of public company securities through regulation of ratings firms, accounting firms and attorneys. For more information:

Dodd-Frank (2010). This legislation addressed a number of areas concerning ethical conduct by business organizations and individuals, including but not limited to consumer protection, credit ratings agencies, regulation of financial products, corporate governance, executive compensation, financial stability, transparency and whistleblower protection. For more information see:

State Laws. Many (but not all) of areas of federal regulation are also subject to regulation by state governments too. One of these is securities regulation. For more information see:

Other nations' laws. [Forthcoming]
---
ISSUES TO UNDERSTAND IN THE APPLICATION OF BUSINESS-CRIME RELATED LAWS
While understanding individual laws is important to designing ethical systems, equally important for these purposes are various phenomena concerning how laws are applied. As described below, many of these phenomena would seem to enhance the deterrent force of at least some of the laws in question and thus play an important role in promoting ethical behavior (although there are different views on whether this is desirable, i.e., whether deterrence is being optimized or has gone overboard). On the other hand, some of these phenomena clearly have the opposite effect.
Costs of defense—meaning fees paid to lawyers and investigators—can be very high.

For instance, in August 2013 Wal-Mart disclosed that it had to date paid $300mm in legal fees relating to an investigation concerning possible violations of the FCPA. Avon apparently had spent a similar amount on FCPA investigation as well.
Each of the above-described laws and legal phenomena—particularly when combined with the others—support a need by business people and organizations operating in the US to be cautious with respect to conduct covered by the relevant laws. As noted above, in the eyes of some commentators these laws and legal phenomena lead to an excessive degree of cautiousness. But there are also reasons to believe that the current system does not go far enough in preventing and detecting business-related crimes. For example:
Some business-related crimes are very difficult to detect. Insider trading is a commonly cited example of this.

An offense may be difficult to prove.

Most notable in this regard is the relative lack of criminal prosecutions arising from the financial industry crisis of 2008, with the prosecutorial shortfall attributed by many to the inherent difficulty in proving intentional criminality in the context of highly complex dealings involving financial institutions.

See Rakoff, J. (2013). The Financial Crisis: Why Have No High-Level Executives Been Prosecuted? The New York Review of Books, Jan. 9, 2014 issue.

Finally, even where detected and prosecuted, punishment may not work well as a deterrent.

Managers of a company commit and reap the rewards of a crime, but shareholders bear the cost of the penalties, etc. (i.e., a moral hazard related failure). Some enforcement agencies allow companies/individuals to settle cases without admitting liability (although the SEC is changing its practice in this regard).
---
QUESTIONS TO ASK ABOUT YOUR ORGANIZATION
Am I sufficiently aware of the principal laws that relate to my work?

Are others in my organization sufficiently aware of the principal laws that relate to our work?

Are the potential impacts of a violation of these laws sufficiently appreciated in my organization?
---
TO LEARN MORE
Articles
Videos
Discover more videos from experts covering a breadth of legal issues from Senator Sarbanes talking about the Sarbanes-Oxley Act and Representative Frank explaining the Dodd-Frank Act, to The Ethics Guy, Dr. Bruce Weinstein, discussing the basics, and much more on our Law playlist at the Ethical Systems YouTube channel.
This page is edited by Jeffrey Kaplan. Other researchers may have contributed content.
======================================
Miscellaneous Links & References
A mammoth guilt trip. The Economist. Essay on the ways that American state and federal governments have become akin to shakedown rackets — able to compel massive fines from large companies without trials, transparency, or clear precedents for other companies. Whether or not the companies have done wrong, the massive change in strategy since 2008 undermines the rule of law and imposes vast costs and uncertainties on companies.
https://www.ethicalsystems.org/wp-content/uploads/2013/09/Research-page-pics_hogarththebench.png
541
660
David Newman
https://ethicalsystems.org/wp-content/uploads/2020/04/ES-logo-final-white.gif
David Newman
2013-09-26 16:16:33
2020-04-14 01:13:38
Law