Tag Archive for:
NY Fed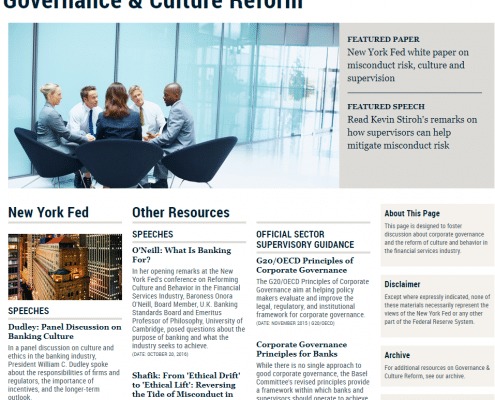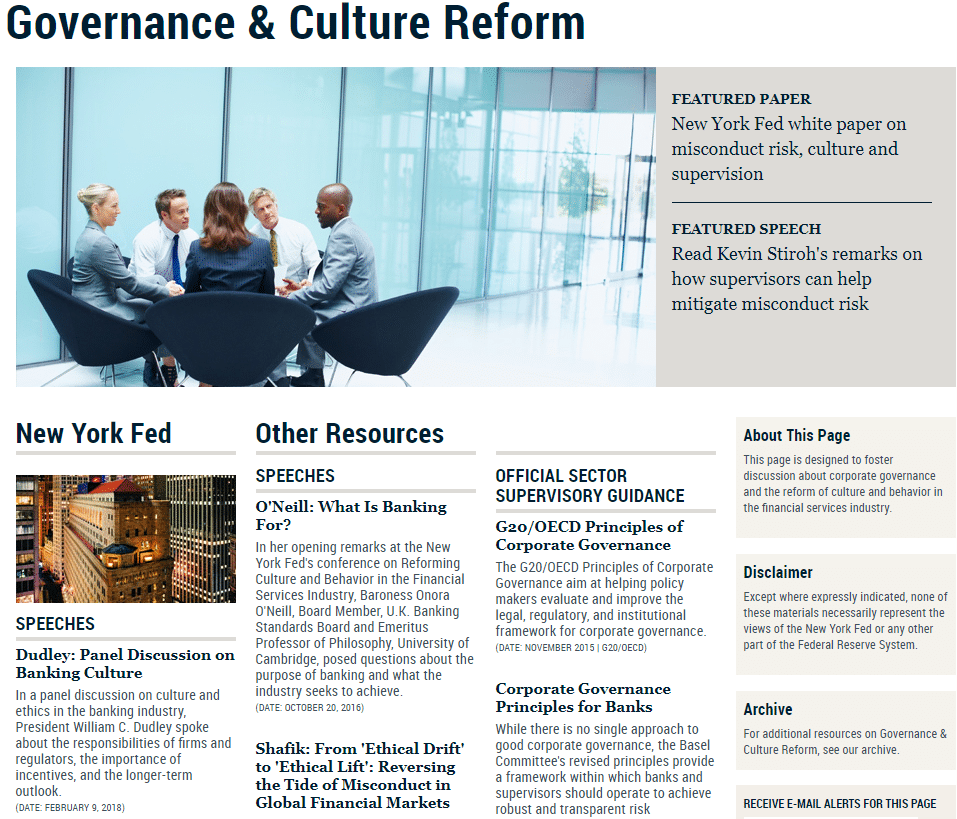 There are two new resources on the Governance and Culture Reform site of the Federal Reserve Bank of NY that highlight the regulatory trends with respect to managing culture in financial services firms.
The first is a transcript from an event at Thomson Reuters on February 7, 2018, which was a moderated discussion among Bill Dudley (President of the NY Fed), Bill Rhodes (WR Rhodes Global Advisors), and Ellen Alemany (Chairwoman and CEO of CIT Group), moderated by Rob Cox (Reuters News). The panelists covered a wide array of matters relating to the topic of Banking Culture: Still room for reform?
Dudley highlighted that while some progress has been made, there's still much room for improvement. For example, the NY Fed has proposed a banking registry to keep track of whether employees have left their jobs for reasons of fraud or other misconduct. This would address the so called "rolling bad apples" problem, whereby companies may inadvertently hire a rogue employee of another firm because employment law discourages employers from sharing potentially derogatory information about former employees. He mentions that the U.K. has perhaps made more progress on this matter, having already established a similar registry.
https://www.ethicalsystems.org/wp-content/uploads/2018/02/pictures_govculturefed.png
819
957
Azish Filabi
https://ethicalsystems.org/wp-content/uploads/2020/04/ES-logo-final-white.gif
Azish Filabi
2018-02-18 02:48:06
2020-03-26 16:56:06
NY Fed Offers New Insights for Financial Services Firms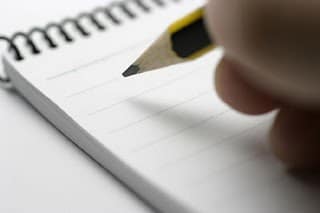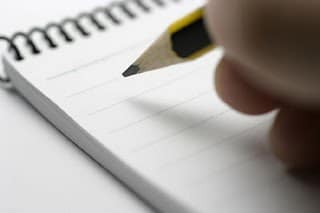 Bad ethics should not be forgotten in the new year- or any other- as bankers and regulators discussed creating an ethical blacklist for individuals working at regulated financial institutions, at the NY Federal Reserve's recent culture conference.
This signals new enthusiasm for a provocative proposal originally suggested in 2014 by Bill Dudley, President of the NY Fed: When an employee leaves a company, the organization would have a mandate to report information relating to his/her misconduct to a central database. Concerning hiring decisions, all firms would have a reciprocal duty to check the database against their potential hire list. The goal is to stem the tide of bad apples that bounce from firm-to-firm, negatively influencing stability, profits and planning.
https://www.ethicalsystems.org/wp-content/uploads/2016/01/make-a-list.jpg
213
320
Azish Filabi
https://ethicalsystems.org/wp-content/uploads/2020/04/ES-logo-final-white.gif
Azish Filabi
2016-01-04 14:58:05
2020-03-26 16:57:37
Your Permanent Record: Blacklist for ethics gaining steam