NY Fed Offers New Insights for Financial Services Firms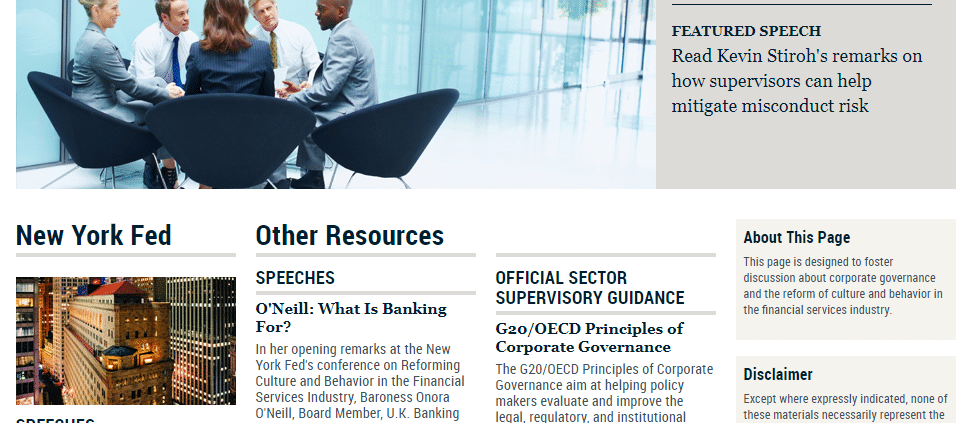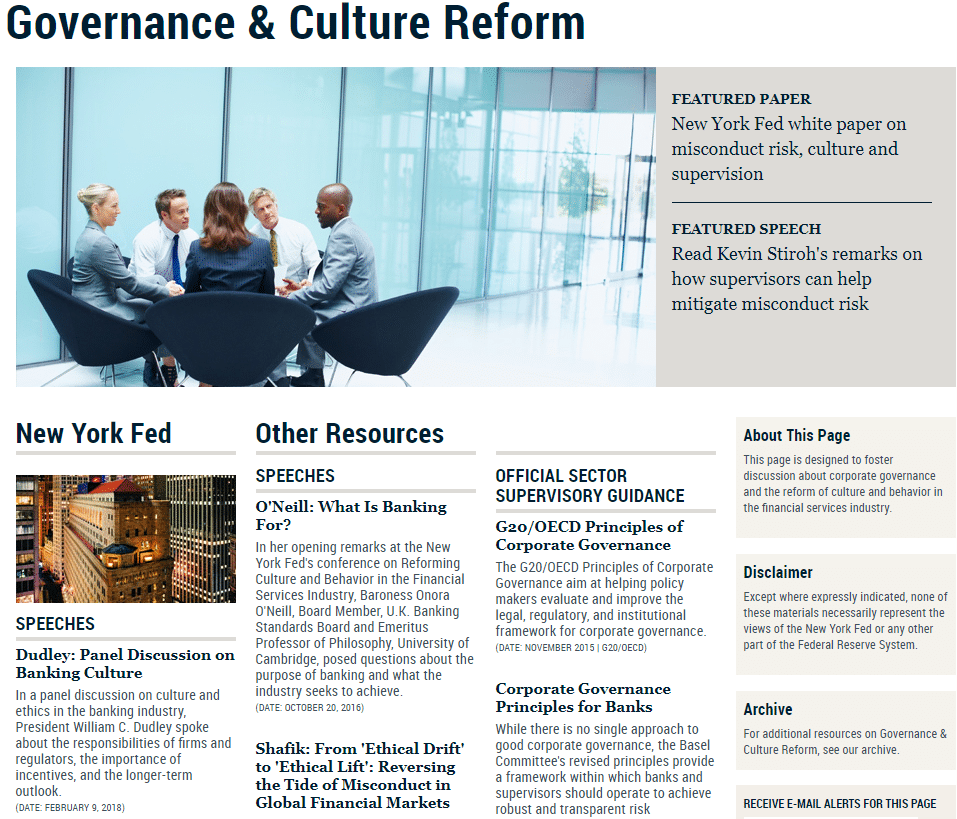 There are two new resources on the Governance and Culture Reform site of the Federal Reserve Bank of NY that highlight the regulatory trends with respect to managing culture in financial services firms.
The first is a transcript from an event at Thomson Reuters on February 7, 2018, which was a moderated discussion among Bill Dudley (President of the NY Fed), Bill Rhodes (WR Rhodes Global Advisors), and Ellen Alemany (Chairwoman and CEO of CIT Group), moderated by Rob Cox (Reuters News). The panelists covered a wide array of matters relating to the topic of Banking Culture: Still room for reform?
Dudley highlighted that while some progress has been made, there's still much room for improvement. For example, the NY Fed has proposed a banking registry to keep track of whether employees have left their jobs for reasons of fraud or other misconduct. This would address the so called "rolling bad apples" problem, whereby companies may inadvertently hire a rogue employee of another firm because employment law discourages employers from sharing potentially derogatory information about former employees. He mentions that the U.K. has perhaps made more progress on this matter, having already established a similar registry.
In another nod to the U.K., Dudley reiterated the need for an industry-wide culture survey, similar to that conducted by the Banking Standards Board, that "allows firms to benchmark their results versus one another."
And finally, Dudley highlights the limits of rules and compliance systems to address the underlying behavioral challenges faced by the industry:
"If you think that regulation can somehow substitute for culture, I think you're really mistaken. In fact, in some ways, the more intense the regulatory regime, it can actually undermine culture, because people can actually say, well, the regulators are saying what I can and cannot do, and so as long as I stick within the confines of those regulations, it's all fine."
In another resource posted on the NY Fed's Governance and Culture Reform site, Misconduct Risk, Culture and Supervision, co-authors Stephanie Chaly, James Hennessy, Lev Menand, Kevin Stiroh and Joseph Tracy recognize the tension with respect to incentives for oversight and control by firms and their boards. Specifically, they state that while the firms do have primary responsibility for improving the firm's culture, "the potential for external effects on other parts of the financial system means individuals and firms will likely under invest in risk mitigation relative to what is socially optimal." Thus, establishing a rationale for regulation of the processes relating to culture and the mitigation of misconduct risk.
The white paper ends with a summary of the efforts taken by regulators worldwide to manage culture and misconduct risk at firms. Supervisory actions range from conducting risk culture assessments (Australia) to the close review and examination of behaviors and group dynamics exhibited by leaders and employees in an effort to diagnose the root cause of problems that could threaten the safety and soundness of the firm or financial system (the Netherlands), among others.
These and other resources available on the Governance and Culture Reform site continue to provide necessary perspectives for the supervisory view and expectations of this important topic.
---
Further Reading:
https://www.ethicalsystems.org/wp-content/uploads/2018/02/pictures_govculturefed.png
819
957
Azish Filabi
https://ethicalsystems.org/wp-content/uploads/2020/04/ES-logo-final-white.gif
Azish Filabi
2018-02-18 02:48:06
2020-03-26 16:56:06
NY Fed Offers New Insights for Financial Services Firms