It's Time to Protect Migrants in Qatar Working on This Year's World Cup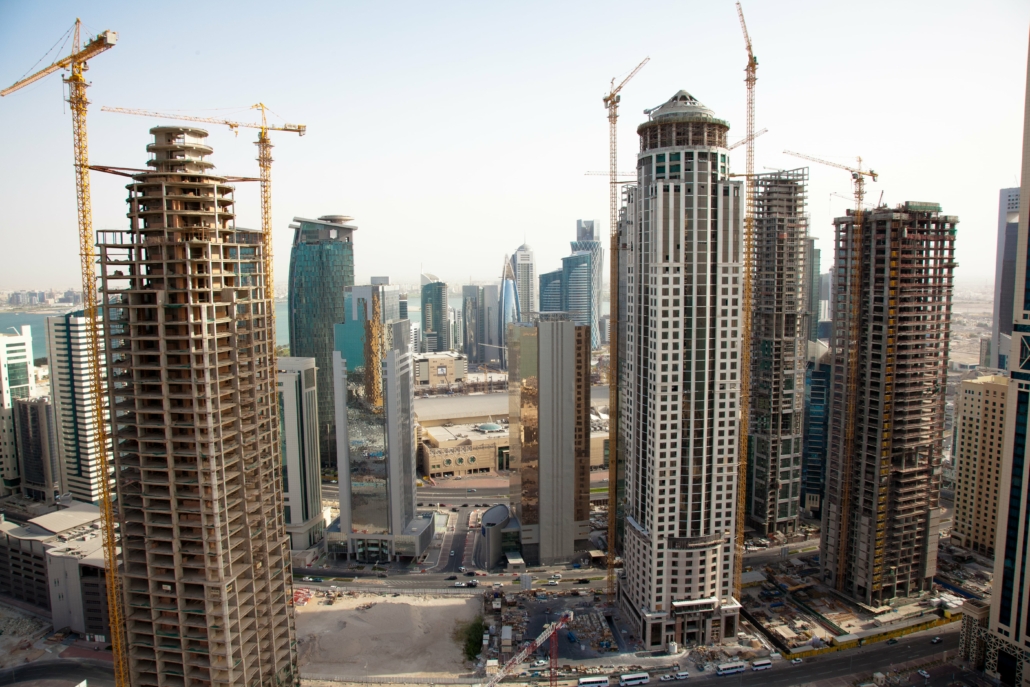 In November, Qatar will host the World Cup, the most popular global mega-sporting event after the Olympics. The soccer tournament will be the first such event to take place in the Middle East—a significant milestone for the region. Since it was selected to host the World Cup in 2010, the Qatari government has undertaken a massive construction program: eight stadiums, more than 100 hotels, a new airport, three subway lines, a new port, and dozens of other infrastructure projects. The estimated cost of more than $200 billion dwarfs the $14 billion the Russian government spent in preparation for the 2018 World Cup or the $11 billion the Brazilians spent leading up to the 2014 tournament. Qatar expects the facilities it has built to accommodate more than a million visitors during a three-week sporting event.
A tiny country with vast natural gas reserves, Qatar boasts the world's number one gross domestic product per capita. But its population of only 330,000 citizens could not have prepared for the World Cup on its own. Instead, Qatar relied on the human resource that has built much of the modern Middle East: migrant workers, mostly from South Asia. The six countries that make up the Gulf Cooperation Council—Qatar, as well as Saudi Arabia, Kuwait, Oman, Bahrain, and the United Arab Emirates—collectively host more than 25 million foreign laborers, about 10 million in construction and the rest in domestic service, retail, and other sectors. More than two million foreign workers, primarily from India, Bangladesh, and Nepal, are employed in Qatar. Nearly half work on construction projects, many related to the World Cup. These jobs offer migrants greater economic opportunity than they have in their home countries and allow them to send money back to their families. Remittances to South Asia, two-thirds of which come from the Gulf, total more than $150 billion annually.
All too often, their wages are paid late or subject to illegal deductions; sometimes, they are not paid at all.
In striking contrast to Qatar's extraordinary wealth, migrant construction workers are typically quite poor. By hosting the World Cup, Qatar has brought greater international attention to the plight of these laborers. Over the past several years, the country has had a mixed record in how it has treated this workforce. The outbreak of Covid-19 initially resulted in confusion and high infection rates among migrant workers living in squalid, overcrowded dormitories. But Qatar deserves credit for responding to the Covid-19 pandemic by providing all migrant workers with free, adequate testing and healthcare. By late 2020, the country had one of the lowest coronavirus-related fatality rates in the world, a status it has maintained ever since.
But a new report from the NYU Stern Center for Business and Human Rights points out that "in contrast to Qatar's effective Covid-19 response, neither the government nor the construction companies it hires have adequately addressed the economic harms suffered by migrant workers as a result of coronavirus-related disruptions or the exploitation that long predated the pandemic," such as wage reductions, termination of contracts, and deportations. The NYU Stern Center, which I direct, observes that despite the economic contribution migrant workers make to Qatar and other Gulf countries, they are generally undervalued. In Qatar and elsewhere, they routinely toil for long hours in blazing heat and often-unsafe work environments. All too often, their wages are paid late or subject to illegal deductions; sometimes, they are not paid at all.
In February 2021, The Guardian reported that more than 6,500 migrant laborers had died during the decade since Qatar was named the World Cup host. These deaths reportedly were the result of heat stroke, falls, and "natural causes." The Qatari government vigorously disputes this number, but it is impossible to get to the bottom of the disagreement because the government lacks a transparent process for recording and investigating such deaths.
---
Subscribe to the Ethical Systems newsletter
---
In a more promising development, the government five years ago entered a partnership with the International Labor Organization to bring Qatar's labor laws and practices into compliance with international standards. The ILO's mandate includes improving wage payment, enhancing labor inspection and health and safety systems, replacing the traditional kafala sponsorship system and improving labor-recruitment procedures, preventing forced labor, and promoting "workers' voice."
While Qatar has made modest progress in some of these areas, on one vital problem—the self-payment of recruiting fees by workers—the government has not done nearly enough. As the NYU Stern Center report concludes, "In the absence of a clear legal mandate and active government enforcement, most companies still do not pay for recruitment, and an overwhelming majority of migrants continue to shoulder this financial burden. This shifting of costs to workers forces many to borrow at high interest rates to pay recruiting agencies in their home countries." The debt, which can amount to as much as a year's wages, divert funds that laborers otherwise would send to their families.
The next eight months before the World Cup kicks off, provide a golden opportunity to reform the labor system in Qatar, especially with respect to recruitment fees. Reforms need to come principally from the government, but others can help push for progress. The Federation Internationale de Football Association (FIFA), the sport's international governing body, needs to get directly involved in this process. In February 2021, FIFA's human rights advisory board raised concerns about worker-paid recruitment fees and the non-payment of wages, but the organization failed to follow up by putting pressure on the government. Commercial sponsors of the World Cup—global companies like Coke, Adidas, and Hyundai—also need to speak up for reform. Consumers should demand that their favorite brands get involved.
Finally, there is a role for participating teams to leverage their popularity with fans to amplify calls for reform. Last spring, athletes from Norway, the Netherlands, and Germany protested by wearing shirts expressing solidarity with migrant workers in Qatar. While this gesture generated some media coverage, it did not change anything for the foreign laborers. As these star athletes prepare to compete, they have an opportunity to elevate the issue of fair treatment of migrant workers so that sports fans, journalists, and government officials worldwide pay attention—not just during the World Cup, but far beyond.
Michael Posner is the Jerome Kohlberg professor of ethics and finance at NYU Stern School of Business and director of the Center for Business and Human Rights. Follow him on Twitter @mikehposner.
Reprinted with permission from Forbes.
Lead image: Omar Chatriwala / Flickr
https://www.ethicalsystems.org/wp-content/uploads/2022/04/qatar-migrants_HERO-scaled.jpg
1707
2560
Michael Posner
https://ethicalsystems.org/wp-content/uploads/2020/04/ES-logo-final-white.gif
Michael Posner
2022-04-13 02:58:17
2022-04-13 02:58:19
It's Time to Protect Migrants in Qatar Working on This Year's World Cup