It's Time to Treat "Stateless" People Fairly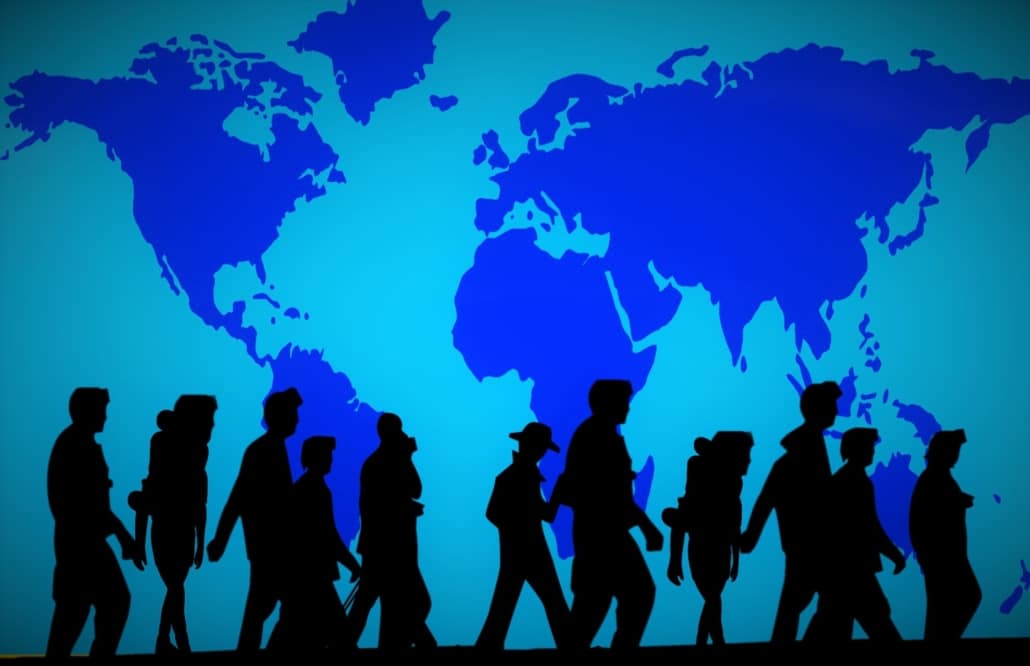 Karina Ambartsoumian-Clough and her parents came to the United States in 1996 when she was 8 years old. Her parents, who had been citizens of the former Soviet Union, applied for political asylum, but American authorities denied their application under a strict standard requiring refugees to demonstrate that their home country would single them out for persecution. Karina and her mother applied for Ukrainian citizenship, but Ukrainian officials told them that they did not qualify. This left Karina and her family stateless: people without a nationality.
The Center for Migration Studies, a New York think tank, estimates that there are about 200,000 stateless people living in the United States. While there is no authoritative consensus on the number of stateless people worldwide, the Institute on Statelessness and Inclusion, a non-governmental group, estimates the number at more than 15 million.
After five years in this camp, they feel increasingly hopeless.
Karina and her family managed to remain in the U.S. as they appealed for more permanent legal status, but they lived under a continual threat of being deported. Lacking passports, they could not travel abroad to see relatives, and they had difficulty opening bank accounts and renting a home. Her parents were able to start a business and have paid taxes every year, she says. In other countries, statelessness can make it difficult to get a job or pursue an education. Stateless people in nations like Kuwait and Myanmar routinely face discrimination or worse.
A United Nations Convention adopted in 1954 defines a stateless person as one "who is not considered as a national by any state under the operations of its law." Statelessness is a difficult concept for many Americans to grasp, in part because anyone born in the U.S. automatically becomes a citizen. But this is not true everywhere. In a variety of countries, there are substantial categories of people whom the government does not recognize as nationals and who lack citizenship anywhere else.
A law enacted in Myanmar in 1982 denied citizenship to more than one million Rohingya Muslims in Rakhine state, calling them foreigners, illegal migrants, or Bengalis. In 2017, when more than 700,000 Rohingyas were forced to flee across the border into Bangladesh, they were placed in a massive refugee camp, the largest in the world. Because they are stateless, they have little prospect of resettling anywhere else. I visited this camp in 2018 during monsoon season and saw the dire conditions under which these people now live. A new report by Fortify Rights documents the attacks by Bangladesh security forces inside this camp. During my visit, camp residents told me that they cannot return safely to Myanmar and that the government of Bangladesh is not prepared to integrate them into its society. After five years in this camp, they feel increasingly hopeless.
---
Subscribe to the Ethical Systems newsletter
---
In Kuwait, there are more than 100,000 members of the Bidoon community, some of whose families have lived in that country for generations. According to Minority Rights Group International, "most Bidoon come from nomadic tribes native to the Arabian Peninsula who were in Kuwait when the country gained independence in 1961 but were unable or unwilling to take the time needed to register as citizens." In 1985, the government fired all Bidoon who held government jobs and declared the Bidoon presence in the country illegal. This has forced members of this community to live in the shadows, unable to work legally and afraid even to seek police protection.
Several hundred thousand people, like Karina and her family, emigrated from the former Soviet Union, but were not eligible for citizenship in countries like Ukraine, which were formed in the post-Soviet era. Some stateless people have lived in the U.S. or Western Europe for decades. Because they cannot get a passport, they are unable to visit close family members who are critically ill or to attend their parents' funerals. It also drastically complicates their ability to get or hold a job because many employers are simply not willing to navigate governmental reporting requirements for non-citizens.
For years, the Office of the United Nations High Commissioner for Refugees has strongly urged governments like the United States to amend their laws to regularize the status of stateless people. Partially because this issue has received so little public attention in the U.S., it has not been advanced by either Democrats or Republicans administrations.
In December, Alejandro Mayorkas, the Secretary of Homeland Security, took an important first step, acknowledging the "significant humanitarian concerns" raised by statelessness. He promised "to enhance recognition of, and protections for, vulnerable populations, including stateless individuals within the United States." The Biden administration has the power to enhance work authorizations and other administrative benefits without new legislation. But while these measures would help, stateless people in the U.S. will not enjoy lasting relief until Congress amends the law to make them eligible for permanent residence and eventually, citizenship. This would be the right and ethical outcome, and it is long overdue.
Many stateless people living in the U.S., like Karina and her family, immigrated following the break-up of the Soviet Union in the 1990s, or because of the draconian citizenship laws in places like Myanmar and Kuwait. They have lived and worked here, paid taxes, and contributed to the well-being of our society. Karina, now 34 years old, and several others have created an organization called United Stateless to campaign for needed changes in U.S. law and policy to protect the rights of stateless people. This is a worthy mission, and it deserves the support of fair-minded Americans.
Michael Posner is the Jerome Kohlberg professor of ethics and finance at NYU Stern School of Business and director of the Center for Business and Human Rights. Follow him on Twitter @mikehposner.
Reprinted with permission from Forbes.
https://www.ethicalsystems.org/wp-content/uploads/2022/06/map-of-the-world-1005413.jpg
1280
1980
Michael Posner
https://ethicalsystems.org/wp-content/uploads/2020/04/ES-logo-final-white.gif
Michael Posner
2022-06-13 17:26:23
2022-06-13 17:26:25
It's Time to Treat "Stateless" People Fairly