How to Address the Legal Status of Afghan Refugees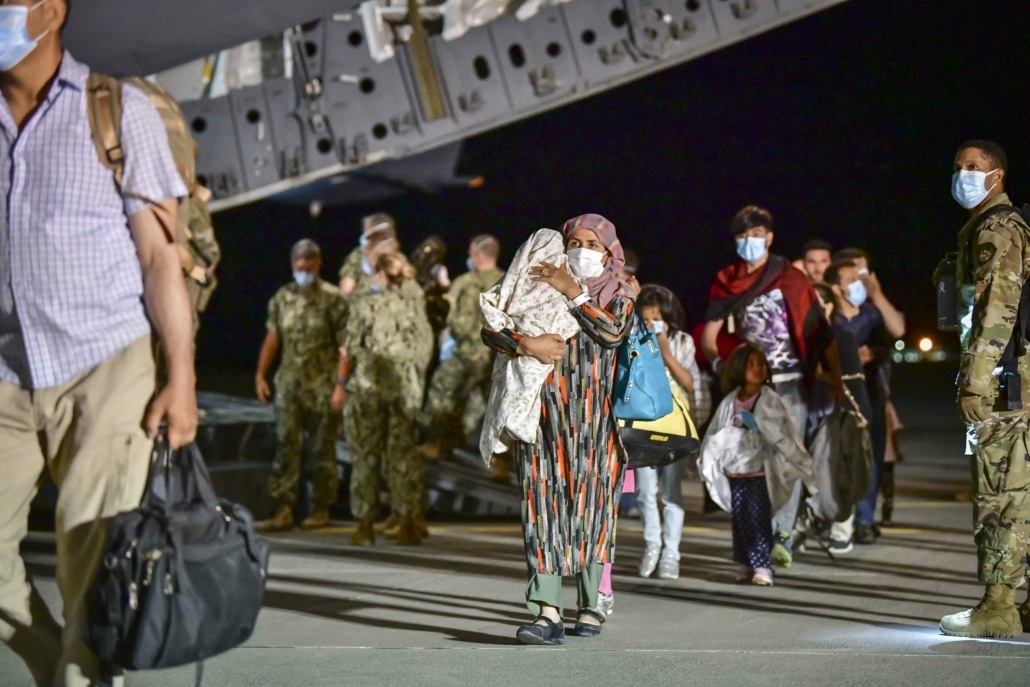 In the last two weeks of August, the U.S. government coordinated an unprecedented and massive evacuation from Afghanistan of more than 124,000 people, mostly Afghan refugees. This daunting logistical feat relied on the tireless efforts of thousands of U.S. military and civilian personnel. U.S. leaders are rightfully proud of the heroic actions of these Americans, 13 of whom made the ultimate sacrifice when they were murdered by ISIS-K extremists in the final days of the operation. Now, the Biden Administration and Congress need to focus on three urgent tasks: First, the U.S. must deploy every resource available to get as many vulnerable people out of Afghanistan as possible. Simultaneously, we must bring to the U.S. those who already have been evacuated. And lawmakers should devise a customized immigration status for those forced to flee the Taliban in the wake of the abrupt American departure from Afghanistan. All three undertakings pose formidable challenges.
The August airlift was carried out under rushed and often-chaotic circumstances stemming from the dramatic collapse of the Afghan military and government and the violent and mercurial nature of the Taliban, which controlled access to the Kabul airport. When the August 31 deadline expired and the last U.S. forces left the country, tens of thousands of highly vulnerable people remained in Afghanistan. They are now in extreme danger and are desperate to leave. Various diplomatic efforts are underway to persuade the Taliban to allow their departure. At the same time, a range of humanitarian and charitable organizations are pursuing alternative departure options. Time is of the essence because so many people, especially women and girls, are likely to face persecution by the Taliban. Facilitating their departure should be the highest priority. The U.S. government needs to use every means at its disposal to persuade governments with strong diplomatic relations with the Taliban to use their leverage to negotiate safe departure. 
Some anti-immigrant members of Congress, joined by former President Trump, already are stoking fear about the supposed threats posed by Afghan refugees.
Many of the thousands of Afghans who have managed to leave the country now face a different set of challenges. The good news is that about 40,000 of them were either foreign nationals or Afghans who were evacuated by European or other governments or by international organizations that have assumed responsibility for resettling them. Of the more than 65,000 Afghan refugees airlifted out by the U.S., about 23,000 are now being housed in military or other facilities in Europe. Yet another 20,000 were moved to places in the Middle East or other parts of Asia, which have been dubbed "lily pads," because they are just interim stops for the refugees. More than 24,000 Afghans already have been brought to the U.S., where they are being held in military bases in Virginia, Texas, Wisconsin, and other states. These makeshift arrangements are far from ideal. The Afghans often wait for hours in long lines to get their meals and face badly overcrowded conditions, even if they are traveling with small children. This situation is understandable, given the size of the evacuation and the rushed nature of the airlift. In a promising development, it was recently reported that the Biden Administration will seek $6.4 billion from Congress to help cover costs associated with the relocation of Afghan refugees. But the harsh conditions won't be eased immediately and underscore the need to resolve questions about the Afghans' legal status expeditiously. 
These are classic refugees, having fled political, ethnic, or religious persecution. Under the 1980 Refugee Act and related provisions, they ordinarily would be screened and granted refugee status outside of the U.S. and then invited into the country. Refugee status comes with a range of benefits, including initial financial support, sponsorship by resettlement agencies, language training, and a path to permanent residence and citizenship. But as a practical matter, our refugee resettlement system is broken. First, the Trump Administration slashed the number of permissible refugee admissions to only about 7,000 people who will be admitted this year from anywhere in the world. Though the Biden administration has raised the ceiling going forward, it will take time to rebuild the administrative structure. On top of that, it now routinely takes more than a year for U.S. authorities to process a refugee claim, and applications must be processed outside the U.S. None of the "lily pad" countries are willing to offer temporary resettlement for the duration of this laborious process, as, for example, Austria did for Soviet Jews in the 1990s.
---
Subscribe to the Ethical Systems newsletter
---
While some have suggested that the asylum system might offer an alternative for Afghans, this, too, is a flawed and unrealistic option. The system already is overwhelmed by a massive backlog of more than 300,000 pending cases and an underfunded administrative structure which results in massive delays for even the most meritorious cases. The introduction of tens of thousands of Afghan cases would further cripple the asylum system.
While a relatively small subset of the Afghans—for example, translators who worked directly for the U.S. military—may be eligible for Special Immigrant Visas, this system is also not working well. SIVs offer the same pathway to permanent residence and citizenship as refugee status, but the process has been painfully slow. In the first eight months of 2021, only 2,000 Afghans and their families were granted this special status, and it is unclear how quickly the government can act to improve the efficiency of the SIV program.
A fourth alternative, which administration officials now seem inclined to pursue, is to offer humanitarian "parole" to those who are approved by U.S. security screeners. The problem is that parole offers only temporary admission to the U.S., typically for no more than two years. It also does not offer the benefits available to those admitted as refugees. With few exceptions, the current Afghan refugees have no prospects for returning to their homeland, at least while the Taliban remains in control. Thus, if the parole system is applied, the administration needs to find a way to give them short-term economic support and a pathway to citizenship.
Congress can address this problem by passing legislation that gives resettlement benefits and a path to citizenship for Afghans who are paroled into the U.S. The 1966 Cuban Adjustment Act provides a helpful precedent. For several decades after Fidel Castro seized power, the U.S. used this law and other administrative measures to allow hundreds of thousands of Cubans to enter this country and become lawful permanent residents and then citizens. The Afghan resettlement would be the largest effort of this type since the U.S. admitted one million refugees from Vietnam, Cambodia, and Laos in the 1970s and 1980s, using a combination of special admissions programs and the 1980 Refugee Act. Given the 20-year U.S. involvement in Afghanistan, this type of large-scale effort is needed.
Some anti-immigrant members of Congress, joined by former President Trump, already are stoking fear about the supposed threats posed by Afghan refugees. Such fears are not supported by facts. History has shown that U.S. security-vetting procedures are rigorous and effective. Most Americans understand this. Recent polls reflect broad bipartisan support for the admission and resettlement of Afghan refugees, who have fled Taliban terror and, in Emma Lazarus's words, now are "yearning to breathe free."
Michael Posner is the Jerome Kohlberg professor of ethics and finance at NYU Stern School of Business and director of the Center for Business and Human Rights. Follow him on Twitter @mikehposner.
Lead image: U.S. Naval Forces Europe-Africa/U.S. Sixth Fleet / Wikicommons
Reprinted with permission from Forbes.
https://www.ethicalsystems.org/wp-content/uploads/2021/09/NAS_Sigonella_receives_Afghan_evacuees_210822-N-NI474-2127-scaled.jpg
1707
2560
Michael Posner
https://ethicalsystems.org/wp-content/uploads/2020/04/ES-logo-final-white.gif
Michael Posner
2021-09-20 17:34:50
2021-09-20 17:34:51
How to Address the Legal Status of Afghan Refugees