Ethical Systems Design: Crosspost from AuditFutures
Cross posted from the AuditFutures Blog. See original post here.
On 23rd November, we hosted a conference exploring the concept of organisational culture and what systemic approaches we can take to foster ethical culture within organisations, particularly professional service firms. This interdisciplinary conference engaged around 100 leading international academics, business leaders and accounting professionals in a holistic discussion on the significant role of culture in organisations.
The event built on our Future Firms project which explores in a systemic way the interdependencies of the different aspects of the firm: culture, governance, technology, services, structure, and people and what this means for the future of organisations.
Our Ethics by Design Conference explored the key challenges and trends, faced through the interaction between the three levels of employees, the organisation and society. Participants explored the possible design ideas that can be implemented to work towards overcoming these challenges and forming a more ethical culture.
In partnership with Ethical Systems, we had the privilege to host Professor Jonathan Haidt of New York University Stern School of Business as our keynote speaker. Jonathan opened the day to introduce the practical research of Ethical Systems – a US-based academic think tank that collaborates with inter-disciplinary researchers from over 30 leading universities. The morning session that Jonathan facilitated, focused on the business case for ethics – why ethics pay (and how to make it pay more) – and demonstrated practical ideas for ethical systems design. The underlying principle is whereby behaviour and in turn the culture within an organisation must be understood by examining the interaction of many factors and forces.
A panel of speakers offered their views on the emerging challenges, inspiring a debate of further questions and observations by our participants in roundtable discussions and a forum session. Key questions raised included:
How can we put greater value on the 'culture' of an organisation?
What can we do to measure ethical culture?
How can we move away from a blame culture?
Do we need a new theory of business?
How does the behaviour in school/universities feed into the culture in organisations?
Where does moral motivation come from?
Are environmental influences playing a big part in people's ethicality?
Taking a systemic approach to ethics
The conference was designed to provide time and space for reflection and feedback on what value is being created for oneself, for the organisation and for the wider society. We looked at practical ideas with systemic impact at the three levels:
Individual
We need to look at the ways in which employees are treated and not just the ways in which customers are treated. This will add to an individuals' sense of responsibility to be ethical as 'individuals'. People need to know that they have a choice in the first place without being fearful of blame. There is a general consensus that people need to have a sense of purpose and morality as a whole individual and not simply as an employee. Individual identity is activated when people get involved. This ownership builds intrinsic motivation and decreases the risk of ethical violation. As a result of giving people autonomy and choice people will become more ethical by nature.
Organisation
Purpose-driven companies would encourage a longer term view beyond profits and create a higher purpose. Monetary and reputational pressures may be hindering the desired ethical culture from manifesting itself. However, there may be a cyclical link between profit maximisation and the value created by a more ethical culture. Could this be a new theory of business? The idea that the culture engrained within a business and one that is transparent to all may be linked to the longevity of a business was proposed. This appears to be supported by smaller family-run businesses and businesses based on faith/religious principles. As a result is was concluded that a principle-based system works more effectively than a rule-based system.
The importance of measuring ethical culture and responsibility at all levels within an organisation was also raised including the tone from the top. It is suggested that there may be a disconnect between senior and middle levels of leadership. Measurements at the team level are required since we are influenced mostly by those directly around us. Positive experiences need to be communicated in order to reinforce behaviour.
Society
There are likely to be multiple views from multiple stakeholders about how to design an ethical culture. Engaging in experimentation and enquiry to bridge the gap between academia and practice may provide a societal way forward. However, the question is raised on who should decide where an organisation is trying to get to eg. should the regulator decide or should the organisation itself decide?
Creating conditions to value an ethical culture
By building personal accountability for ethics we will reduce the complacency that is most evident within larger organisations where people perhaps have a sense of anonymity. Providing an opportunity for smaller firms to share knowledge and their understanding of behaviour with medium and larger organisations may assist in promoting a purpose/value-driven organisation. We need to find ways in which to promote ethical behaviour and to reduce the associated fear of a loss of reputation and fear of regulatory pressures. We need to break down the conflict between internal beliefs and external thresholds (determined by social context). Perhaps what we should be striving for is an end to hierarchy and the beginning of a partnership, whether this be between a regulator and an organisation or between different levels of management and employees within an organisation. Individuals' values and aspirations need to be aligned with those of the organisation, namely morality, honesty and purpose and so what we should be considering is whether we should be hiring new recruits for the values that they intrinsically hold and will therefore continue to foster within an organisation.
Design and implementation ideas
During the day we explored a number of ideas and practical tools for organisations to foster ethical culture through the facilitation of a number of break-out sessions:
Alexandra Meagher (Government Inclusive Economy Unit, DCMS) – Policy environment and the future of the social investment market
John Featherby (Shoremount) – How can purpose driven businesses stimulate and energize positive behavioural change?
Plamena Pehlivanova (UCL Institute of Education): Fostering culture through critical education and training
Kevin Hills (EY): The value of culture, valuing the intangibles and what companies would value in the future
Livio Hughes (PostShift): New OS of organisations and the future of work
Rozlyn Spinks (IBE): Consequences of ethical decision-making
Papiya Chatterjee (IIA): The role of internal audits and controls
Ian Muir (Author): The tone from the top: how behaviour trumps strategy
Edward Houghton (CIPD): The future of HR in organisations
Duncan Wardley (PwC) – Beyond regulation: the role of context, incentives and emotions
Gemma Adams (Forum for the Future) How can we create the enabling conditions that foster an ethical ecosystem? How might we track and measure the progress?
Anna Colban (Financial Reporting Council) – FRC's Culture Coalition
Celia Moore (Bocconi University): Designing jobs to foster organisational culture
Faye Whitmarsh (PwC): Cyber Security Culture
---
Further Reading: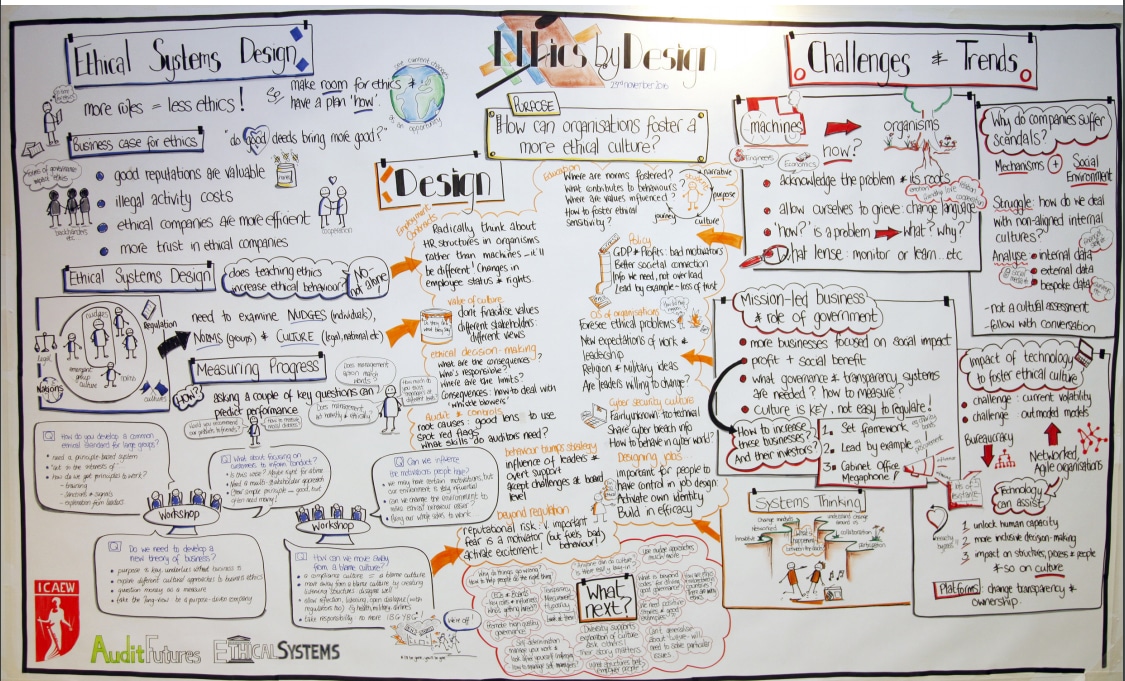 https://ethicalsystems.org/wp-content/uploads/2020/04/ES-logo-final-white.gif
0
0
Jeremy Willinger
https://ethicalsystems.org/wp-content/uploads/2020/04/ES-logo-final-white.gif
Jeremy Willinger
2016-12-15 14:52:11
2020-03-26 16:57:08
Ethical Systems Design: Crosspost from AuditFutures