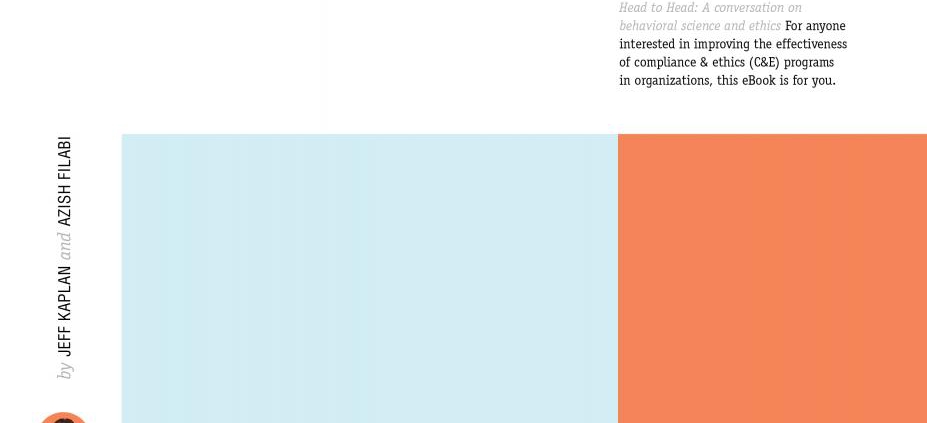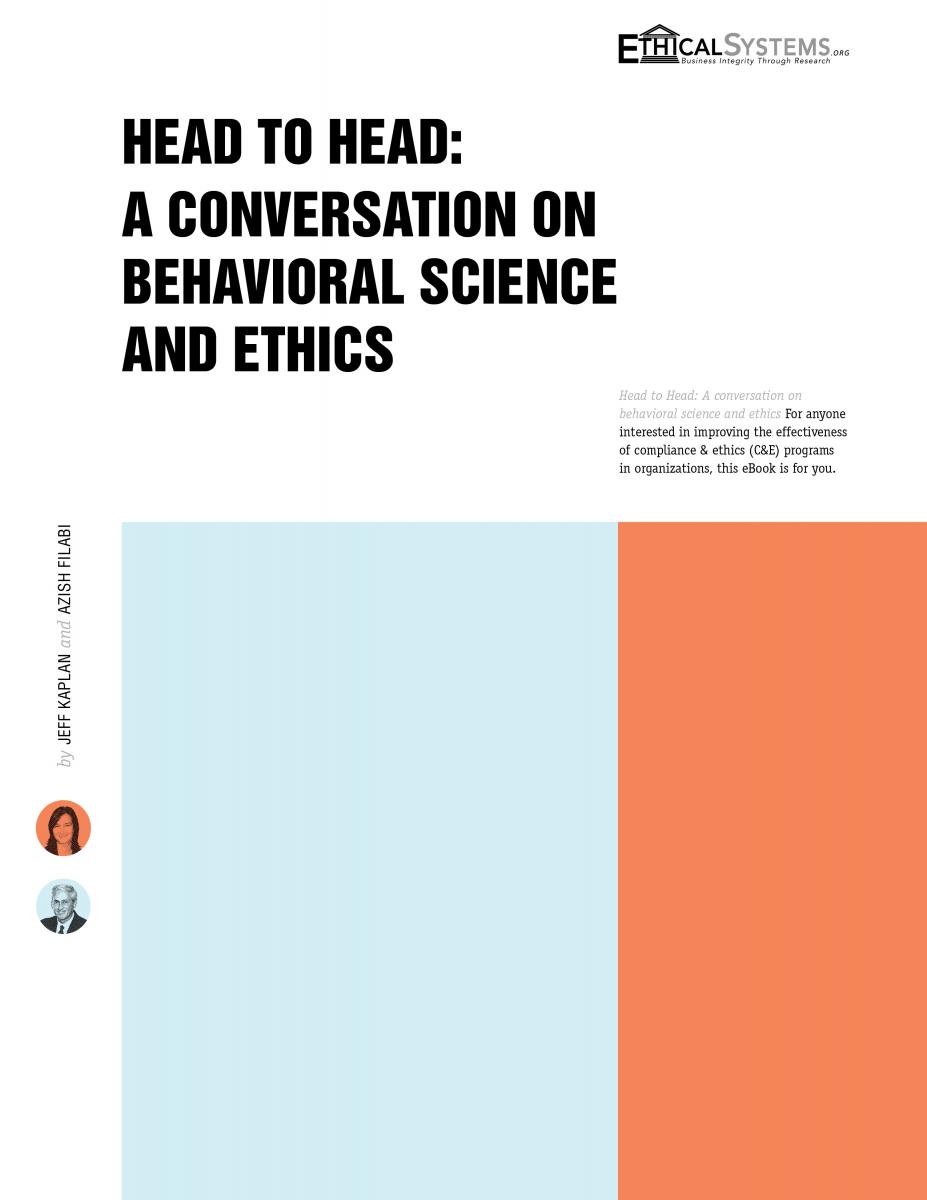 New York, NY – Ethical Systems is pleased to announce the release of Head to Head: A conversation on behavioral science and ethics a new, free eBook created to help practitioners in the ethics and compliance field integrate social and behavioral science research to help strengthen employee-focused programs.
Structured as a series of one-on-one conversations between Ethical Systems CEO Azish Filabi and Ethical Systems collaborator, Jeffrey Kaplan, partner at Kaplan & Walker, LLP, Head to Head demystifies academic research and makes findings applicable to practitioners. Research is curated and explained to make integration into existing programs easy and serviceable. Filabi's deep expertise as a lawyer and work as an Ethics Officer at the NY Fed coupled with Kaplan's pioneering writing on conflict of interest and tenure within the legal community, make for an ideal background from which to distil information and make it palatable for the business world. In addition, Head to Head: A conversation on behavioral science and ethics has been professionally designed to structure content and facilitate the application of the many lessons and tips featured throughout the eBook.
We are calling this version of Head to Head: A conversation on behavioral science and ethics part 1 because we are seeking feedback from the field to inform the creation of part 2, which will build on existing research and cover additional topics and perspectives. Part 1 starts with a page of C&E history, and continues with a discussion of the role of culture, an overview of behavioral science, risk assessment and C&E programs, and info on the risk of overconfidence.
"We are incredibly excited to release Head to Head to the ethics and compliance community. We aim to support the essential mission of effective C&E programs whose goal is to create policies, procedures and systems to prevent violations of law and ethics, while instilling a strong culture of support and open disclosure. 'Head to Head' helps companies do just that. For anyone interested in improving the effectiveness of their program, this is a resource designed for you." said Azish Filabi, CEO of Ethical Systems.
We invite you to explore and download Head to Head: A conversation on behavioral science and ethics online.
Our Mission: Ethical Systems makes the world's best research available and accessible, for free, to anyone interested in improving the ethical culture and behavior of an organization.
# # #
If you would like more information, please contact Jeremy Willinger at 212-992-6815 or email at willinger@ethicalsystems.org.

https://www.ethicalsystems.org/wp-content/uploads/2017/07/files_CE_Editorial_Cover_Final.jpg
1200
927
Jeremy Willinger
https://ethicalsystems.org/wp-content/uploads/2020/04/ES-logo-final-white.gif
Jeremy Willinger
2017-07-25 20:09:44
2020-03-26 16:56:53
Ethical Systems Releases New Behavioral Science eBook: Head to Head: A conversation on behavioral science and ethics