Head to Head: A conversation on behavioral science and ethics
Introducing Head to Head: A conversation on behavioral science and ethics, a new eBook created for anyone interested in improving the effectiveness of compliance and ethics (C&E) programs in organizations.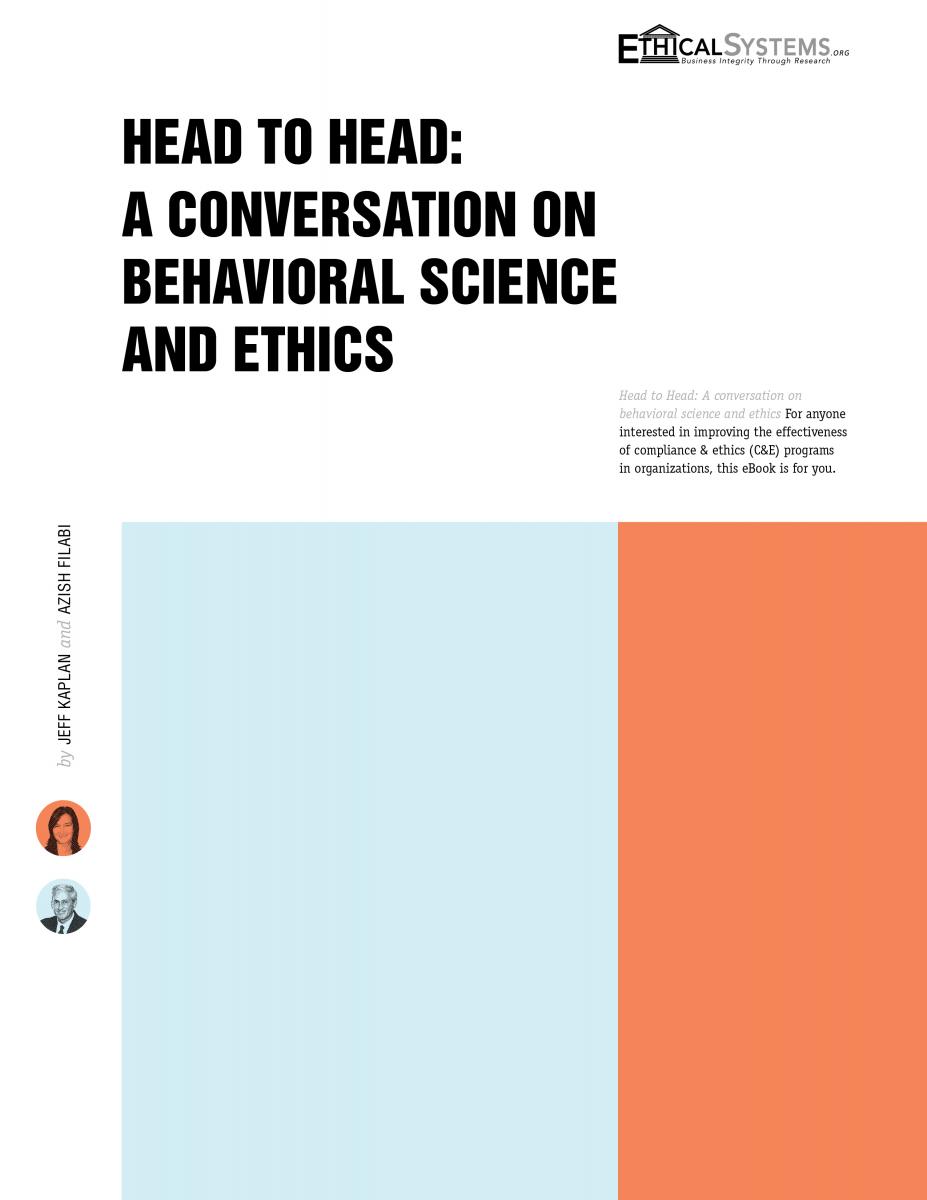 About:
Head to Head is structured as a series of dialogs between ES collaborator Jeff Kaplan and our CEO Azish Filabi on various facets of compliance and ethics work. By integrating social and behavioral science research with the core elements of effective compliance and ethics programs, Head to Head helps practitioners broaden their focus to behavior and culture in organizations, enhancing their approach to risk management.
Advance Praise for Head to Head
"In this innovative resource on a cutting edge topic – behavioral ethics –  two luminaries from the ethics and compliance field, Jeff Kaplan and Azish Filabi, shed important light on some of the key concepts in this critical new field, in a dynamic conversational format. This important new resource comes none too soon, at a time when behavioral insights into organizational ethics – whether for companies, non-profits or government – is more needed than ever. Kudos to Ethical Systems for spearheading this innovative project." –Andrea Bonime Blanc, CEO of GEC Risk Advisory
"Head to Head has a great format that helps deliver substantive insights around ethics and compliance. I see a lot of excellent dialogue in board rooms and offices stemming from the content in this dynamic eBook." –Charlie Green, CEO of Trusted Advisor Associates
Table of Contents:
Preface – and an invitation to join us
Introduction and Overview

What are compliance and ethics programs?
A page of C&E history
The role of culture

Behavioral Ethics

Behavioral ethics and compliance, an overview

Risk Assessment

The Risk of Overconfidence
Holier than thou?
Conformity bias: Is misconduct contagious?
Does mere exposure to money bring out the bad in all of us?
Does power corrupt?

Training & Other Communications

Slippery slopes
The counterfeit self
A small ethics nudge:  People should sign before filling out a form

Enforcement

The Whistleblower's Dilemma
Providing Feedback:
We have called this first installment Part One because we know there is much to say about this topic. We hope you will share your ideas and experiences in making compliance and ethics programs more behaviorally oriented.
If we use your thoughts in Part Two, we will, of course, give you credit in that volume (unless you would rather we not do so).
https://www.ethicalsystems.org/wp-content/uploads/2017/06/CE_Editorial_Cover_Final.jpg
1200
927
Jeremy Willinger
https://ethicalsystems.org/wp-content/uploads/2020/04/ES-logo-final-white.gif
Jeremy Willinger
2017-06-16 18:41:18
2020-04-17 07:45:01
Head to Head: A conversation on behavioral science and ethics