Tag Archive for:
book summary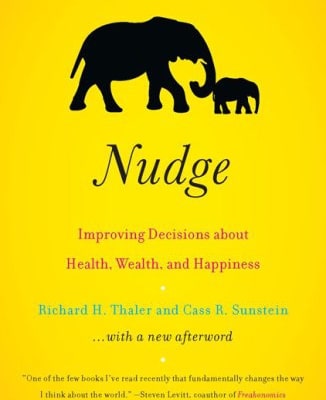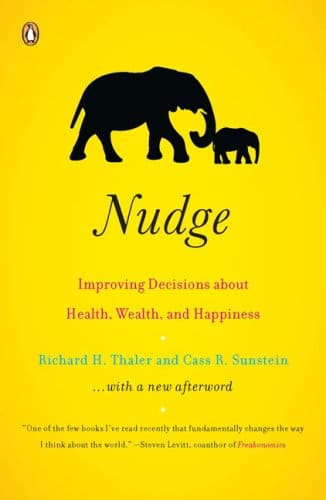 All of us at Ethical Systems extend a hearty congratulations to Richard Thaler on the announcement of his Nobel Prize for his pioneering research around nudging.
From The New York Times announcement:
The Nobel committee, announcing the award in Stockholm, said that it was honoring Professor Thaler for his pioneering work in establishing that people are predictably irrational — that they consistently behave in ways that defy economic theory. People will refuse to pay more for an umbrella during a rainstorm; they will use the savings from lower gas prices to buy premium gasoline; they will offer to buy a coffee mug for $3 and refuse to sell it for $6.
The committee credited Professor Thaler, who teaches at the University of Chicago Booth School of Business, for moving economics toward a more realistic understanding of human behavior, and for using the resulting insights to improve public policies, notably a sweeping shift toward the automatic enrollment of employees in retirement savings programs.
https://www.ethicalsystems.org/wp-content/uploads/2017/10/pictures_Nudge-cover.jpg
500
326
Jeremy Willinger
https://ethicalsystems.org/wp-content/uploads/2020/04/ES-logo-final-white.gif
Jeremy Willinger
2017-10-10 14:51:17
2020-03-26 16:56:34
Richard Thaler, The Nobel Prize and Nudge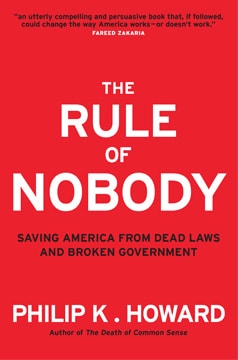 In The Rule of Nobody, Philip Howard describes how bureaucracy is stifling U.S. institutions as well as the spirit of autonomy and free will among Americans. We live within a system whereby layers upon layers of often incomprehensible and inconsistent regulations, mandatory disclosures and requirements create a society that is "governed by dead laws" — meaning that since many of today's laws are so outdated, they have been rendered irrelevant because layers of new (and sometimes inconsistent) laws have been enacted after them, or they have become otherwise destructive to the social good because they hamper progress.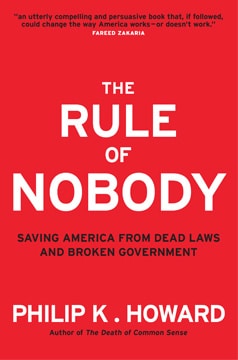 The Rule of Nobody [homepage | public library]
By: Philip K. Howard
Summarized by Azish Filabi
The book is packed with examples of inept laws replacing common sense human judgment. In many cases, government agencies are comprised of well-meaning individuals who can't apply their common sense and best judgment to resolve the problems they are hired to manage.
His recommendations for restoring human control of democracy and bringing about good government involves a series of reforms (summarized below) towards principles-based regulation, including appointing independent commissions to review and propose amendments to existing laws, to mandatory sunset provisions of all laws with budgetary impact, thus compelling Congress to consider the present needs of constituents when allocating expenditures.
https://www.ethicalsystems.org/wp-content/uploads/2017/01/pictures_ruleofnobodycoverfinal.jpg
360
238
Azish Filabi
https://ethicalsystems.org/wp-content/uploads/2020/04/ES-logo-final-white.gif
Azish Filabi
2017-01-10 14:21:37
2020-03-26 23:11:00
Book Summary: The Rule of Nobody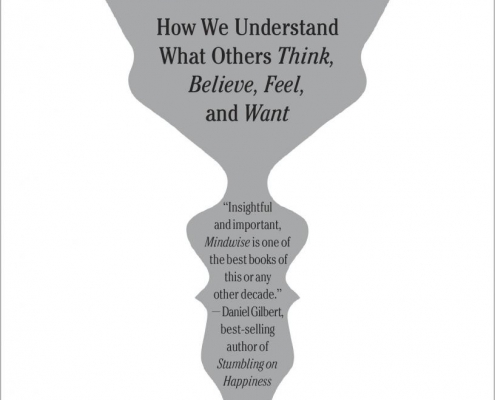 Mindwise: How We Understand What Others Think, Believe, Feel, and Want by Nicholas Epley Knopf, Borzoi Books (2014) Summarized by Bryan Turner Mindwise: How We Understand What Others Think, Believe, Feel, and Want is a book…
https://www.ethicalsystems.org/wp-content/uploads/2014/10/MindwiseCover_0.jpeg
1200
816
Bryan Turner
https://ethicalsystems.org/wp-content/uploads/2020/04/ES-logo-final-white.gif
Bryan Turner
2014-10-30 15:45:10
2020-03-26 22:43:00
Mindwise: How We Understand What Others Think, Believe, Feel, and Want