The Gray Rhino Trump Ignored and Still Tries to Hide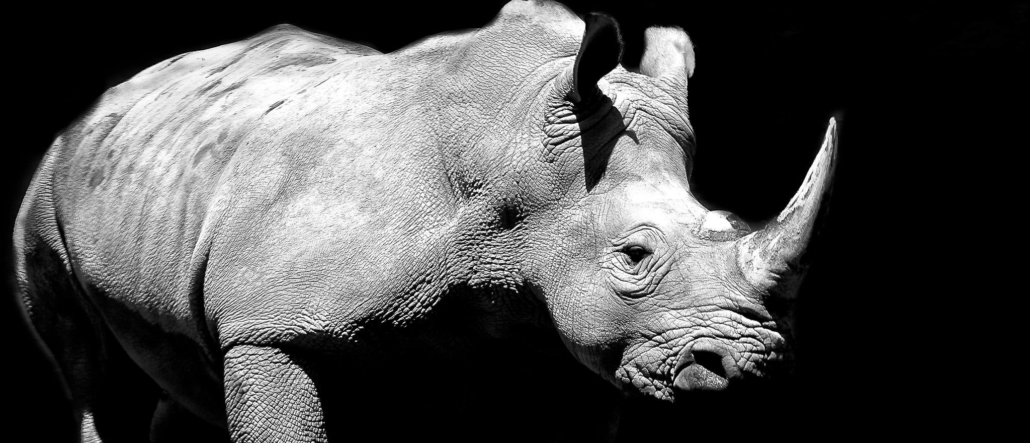 Perhaps nothing more perfectly encapsulates Michele Wucker's idea of a "gray rhino"—an obvious threat, a crisis we see coming—than the COVID-19 pandemic. And perhaps no one more perfectly represents the onlooker—who doesn't get out of the charging rhino's way—than Donald Trump.
After introducing the concept, the inverse of Nassim Taleb's "black swan," in 2013, Wucker elaborated on it in her 2016 book The Gray Rhino: How to Recognize and Act on the Obvious Dangers We Ignore. She provided copious examples of ignored imminent threats, like Hurricanes Katrina and Sandy, and the 2008 financial crisis. If Wucker updated the book today, it'd have to include, in the section about COVID-19, Trump's bullshit statement in late February. "One day it's like a miracle," he said. "It will disappear." Trump, according to CNN, said this at the White House as the virus "marched across Asia and Europe." And after United States officials had said the country "should brace for severe disruption to everyday life."
In late March, we invited Wucker on our podcast with Preventable Surprises, Breaking the Fever. She had just made the case, in the Washington Post, that COVID-19 was no black swan. Scientists saw the pandemic coming, and prominent figures like Bill Gates had been speaking out about such an event for years.
This sense of agency is so important to whether you try to change something or not.
On the day Wucker joined us, March 31, over 4,000 Americans had died from COVID, with just over 18,000 hospitalized. There's something dark in realizing, in retrospect, how perfect a guest Wucker at that time was. She matter-of-factly discussed why it was appropriate to call the pandemic a gray rhino, something many recognize as a threat. And yet, collectively, people do not do near enough to address it.* And now, look where we are—over 180,000 Americans dead.
Listen to "Episode 1 – Michele Wucker" on Spreaker.
I would not blame Wucker for feeling some woeful sense of vindication. Even now, with the catastrophe impossible to ignore, Trump's been trying to hide or minimize it's true impact. His latest attempt at this was to retweet a post from a QAnon-conspiracy supporter claiming, according to CNN, that the US Centers for Disease Control and Prevention had "quietly" updated its numbers "to admit that only" 6 percent of people listed as COVID deaths actually died from the virus, since the other 94 percent "had 2-3 other serious illnesses." The implication, of course, is that the deaths from COVID are being inflated. In reality, this is just how the coronavirus kills, making underlying conditions with which people can often live for years—like obesity, diabetes, and heart disease—lethal.
Wucker also guided us through the cultural-psychological dimension of how different groups, like countries, respond to gray rhinos. In the American case, she said, there's a sense that, because the U.S. has a reputation for being a responsible superpower, Americans can be lackadaisical. "Americans are used to the idea that if there's something to be done about something, we're dealing with it," Wucker said. "It also matters that in democracies, problems are kicked down the road, for the next elected official to deal with." And counterfactuals are hard to appreciate. "It's hard to show," she said, "that what you did actually helped prevent a thing that didn't happen." Denial, a sometimes adaptive psychological tendency, has its comforts, too, Wucker said, in relieving people of the burden of worrying about a looming or latent crisis.
---
Subscribe to the Ethical Systems newsletter
---
I found her reflection on the importance of individual human agency, in facing a gray rhino, particularly poignant. 
"This concept of agency has become so big in the last few years. I've particularly noticed it since the 2016 election campaign, where this phrasing—'sense of agency'—pops up all over the place in mainstream media," Wucker said. "Whereas before that you might have expected to see it in an obscure sociology paper. Gwyneth Paltrow even referred to this sense of human agency in a New York Times Magazine profile. When I saw that, I knew that it had really sunk in. This sense of agency is so important to whether you try to change something or not. Whether you just sink back to learned helplessness, or the other extreme—you only believe you can do something to prevent other people from doing something. We've certainly seen a lot of that as well. What can any one person do?"
An initially insignificant quantitative shift in collective behavior can quickly make a qualitative difference.
Wucker brought up an argument she had with a friend about giving up a gas car and going electric. Why should anyone go electric, when countries like China are continuing to open coal plants? "It's a real tragedy-of-the-commons kind of question," Wucker said. "I look at it as: If you see strong evidence that our planet is in danger, and if that happens, how will I feel if I didn't do every single thing I could within my power, my sphere of influence? That's a powerful question. And then this question of peer pressure. If you see other people driving hybrids, you're more likely to do that, too. If you see other people changing their diets, you'll feel pressure if you're eating a T-bone steak and everybody else is eating falafel. The more people around you make those changes—for example, wearing masks—the more likely you are to do it, too. And one of the good things that's coming out of this pandemic is that many people are realizing how important it is for every single person to do their part."
Not long ago, behavioral economist Robert Frank, an Ethical Systems collaborator, made this point about the power of individual agency—manifested in peer pressure, or behavioral contagion—in The Atlantic.
"Solar-panel adoption, for example, is particularly contagious," he wrote. "After controlling for a variety of other potentially important causal factors, one study found contagion's power in this domain to be substantial: Each new installation in a neighborhood can, over time, lead to several additional ones. (In a follow-up study, researchers have found evidence that solar panels visible from the street exert a significantly greater peer effect than those that aren't—further suggesting that our neighbors' behavior affects our own.) The contagion effect in solar adoption can be seen in Google's Project Sunroof, which displays aerial photos of neighborhoods and identifies houses with solar panels by placing red dots on their roofs. Those houses tend to be near others with red dots."
It's reasonable to expect that peer effects could be just as helpful in addressing climate change in other ways, Frank wrote, like concerning our eating habits. "Conscious consumption," the idea that we should be environmentally thoughtful about the sorts of purchases we make, can be more effective than we think. Though it should in no way supplant the need for broad or systematic policy changes, Frank wrote. Still, "small first steps can lead to larger ones. As Will Durant distilled Aristotle's wisdom about the power of habit: 'We are what we repeatedly do.'"
As the gray rhino of COVID-19 continues to spotlight the fatal incompetence of the Trump Administration and pummel the U.S., the more abstract gray rhino of climate change keeps goading humanity to coordinate a respectable response. The rapid politicization of the pandemic in the U.S. does not bode well for an effective plan to confront our ever-worsening environmental crisis. But, as Wucker stressed, we must be wary of learned helplessness in the face of outsized problems. And remain hopeful that seemingly little acts of personal responsibility can catch on. An initially insignificant quantitative shift in collective behavior can quickly make a qualitative difference.
Brian Scott Gallagher is the Communications Director at Ethical Systems. Follow him on Twitter @bsgallagher.
* Due to a technical problem, we re-recorded our interview with Michele Wucker in May, which is where her quotes in this post come from.
Lead image: Patrick Bouquet / Flickr
https://www.ethicalsystems.org/wp-content/uploads/2020/09/13055710115_bd6795bba9_k-min-e1599087552429.jpg
880
2048
Brian Gallagher
https://ethicalsystems.org/wp-content/uploads/2020/04/ES-logo-final-white.gif
Brian Gallagher
2020-09-02 23:23:23
2020-09-04 20:25:30
The Gray Rhino Trump Ignored and Still Tries to Hide