2016 Collaborators in the News: A Year of Many Achievements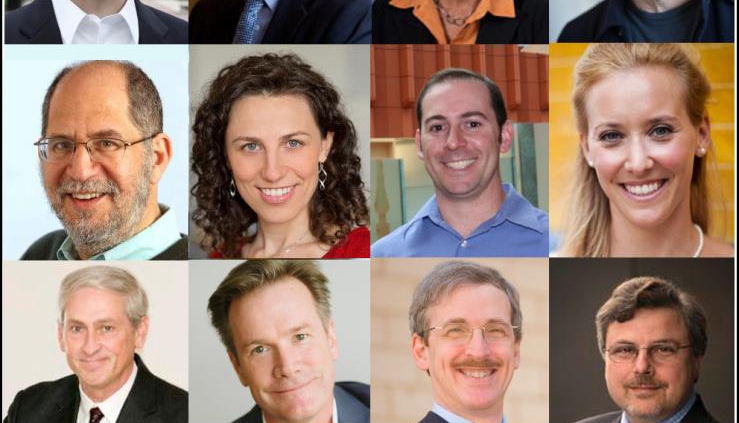 2016 was a year of many achievements for our growing collaborator network. We invite you to browse a highlight list of the research, articles, appearances and talks that helped advance our mission and promote a greater understanding of ethics, decision making, and ethical systems design.
Dan Ariely released his most recent book, Payoff: The Hidden Logic That Shapes Our Motivations, joined Lemonade as its Chief Behavioral Officer, and published several new entries in his "Ask Ariely" column in The Wall Street Journal.

Ariely was also interviewed for Goldman Sachs' Fortnightly Thoughts magazine and discussed some of the irrational behavior traits that affect investors. Finally, his landmark work also contributed to the new "Goals" feature on Google calendar.

Dorothee Baumann-Pauly published, with Justine Nolan, Business and Human Rights: From Principles to Practice (Routledge), the first textbook on business and human rights.

She authored, with Michael Posner, "Business & human rights: a commentary from the inside in Accounting, Auditing & Accountability Journal as well as Industry-Specific Multi-Stakeholder Initiatives That Govern Corporate Human Rights Standards – Legitimacy Assessment of the Fair Labor Association and the Global Network Initiative in the Journal of Business Ethics.

Baumann-Pauly was also interviewed on the Ethical Systems site in March 2016.

Max Bazerman published a piece in Harvard Business Review, with Daniel Kahneman, on how to make the other side play fair in negotiations. His work was also cited more than 1,600 times throughout the year according to Google Scholar.

Ron Berenbeim conducted several noteworthy presentations, including an ethics and anti-corruption discussion with around 50 Thai CEOs and a Keynote Address at the Thai Institute of Directors 7th Annual Collective Action Convention. The speech has been chosen for inclusion in the December edition of Vital Speeches of the Day International Edition.

He also delivered an Intensive Business Ethics and Anti-Corruption course at IAE (IAE is the Buenos Aires branch of IAESE in Barcelona.) Download the PowerPoint from the course.

Steven Blader, with colleagues, published a variety of studies in leading journals, including: "Looking out from the top: Differential effects of status and power on perspective taking" in Personality and Social Psychology Bulletin.

He also has two pieces currently in press: "To give or not to give? Interactive effects of status and legitimacy on generosity" in the Journal of Personality and Social Psychology and "Where is context? Advancing status research with a contextual value perspective" to be published in Research in Organizational Behavior.

Blader also contributed "Power, dishonesty, and justice" to J. W. van Prooijen & P. van Lange (Eds.), Cheating, Corruption, and Concealment: The Roots of Dishonest Behavior (pp. 208-229).

Robert Bloomfield was interviewed by Ethical Systems in May 2016 exploring accounting, the "Law of Measure Management" and much more.

He also co-published a study on "Gathering Data for Archival, Field, Survey, and Experimental Accounting Research" in the Journal of Accounting Research as well as several additional studies of note, including: "Which Moral Foundations Predict Willingness to Make Lifestyle Changes to Avert Climate Change in the USA?" in PLOS One and "Why We Should Stop Being Surprised that Lightly-Regulated Markets Fail to Achieve the SEC's Goals for Market Quality: A Discussion of 'Private Intermediary Innovation and Market Liquidity.'" in Contemporary Accounting Research.

Daylian Cain delivered an engaging presentation at our Ethics By Design conference on conflicts of interest in the workplace.

Dolly Chugh is on sabbatical for the 2016-17 academic year, during which she is writing a trade book about how individuals can be a force for equality (forthcoming from HarperCollins in 2018), teaching in a men's prison, and continuing her research on bounded ethicality and unconscious bias.

Nick Epley delivered a keynote address on "Four Myths About Morality and Business" at our Ethics By Design conference.

His research was highlighted in Business Insider on how we know other people and he was also featured in a segment on the art of small-talk on CBS Sunday Morning.

Professor Epley's work was cited more than 1,000 times in 2016 according to Google Scholar.

Robert Frank published a new book called Success and Luck: Good Fortune and the Myth of Meritocracy, which was featured in a wide range of publications.

He was also interviewed on the "EconTalk" podcast about thinking like an economist and was the subject of a piece in Bloomberg on how luck plays a big part in making you rich. Frank was also featured in an interview with Ethical Systems in January.

Francesca Gino published a cover story in Harvard Business Review on employee engagement and letting your employees break the rules.

She was also featured- with Max Bazerman- in Forbes discussing their new paper on whether loyalty can be a force for good or evil- or both, and authored a piece in Scientific American on sticking to New Year's resolutions. With Maryam Kouchaki, Gino also coined the term "unethical amnesia" and explained its role in business and ethics in a new study.

Adam Grant published his new book Originals: How non-conformists move the world and announced a new book Option B with Sheryl Sandberg.

He also wrote a series of op-eds for The New York Times, and was named as a Fortune magazine 40 under 40. Lastly, Grant's Give and Take was named the one book that Marcus Lemonis of "The Profit" thinks every professional should read.

Jonathan Haidt was featured in a discussion with strategy + business on ethics risks and culture in organizations, an interview exploring if your ethics hold up under pressure in Forbes, and the opening address at Ethics By Design– our conference in June- as well as the keynote address at its UK equivalent in November.

Because of his work on political psychology he was also invited to speak about ways to reduce political polarization and understand the "other side;" He did this in a TED talk, an op-ed in The Wall Street Journal, and in a Keynote address to the American Psychological Association.

David Hirshleifer was elected Vice President of the American Finance Association.

He published a new study in the Behavioural Public Policy Journal on "How Psychological Bias Shapes Accounting and Financial Regulation," has a study accepted for publication in Journal of Financial Economics on "Opportunism as a Managerial Trait: Predicting Insider Trading Profits and Misconduct," and has a study accepted for publication in Journal of Economic Perspectives on "How to Write an Effective Referee Report and Improve the Scientific Review Process."

His work was cited over 2,100 times in 2016 according to Google Scholar.

Marc Hodak delivered a presentation on "Walking the Tightrope: Balancing incentives to perform vs. incentives to cheat " at Ethics By Design and was featured on CCTV on a segment on incentives and ethics. He was also quoted in a Bloomberg piece on how sales targets encourage unethical behavior.

Robert Hurley became our newest collaborator during the Summer and was interviewed for the Ethical Systems site in September on trust, ethics and the value of measurement.

He also published a wide variety of pieces on trust, including: "Organizational Trust in The Sage Encyclopedia of Corporate Reputation" in The SAGE Encyclopedia of Corporate Reputation and "When it comes to trusting politicians, don't go with your gut" in The Washington Post.

Hurley also delivered presentations at NYIA, FINT, and Columbia Business School's Executive Program.

Jeffrey Kaplan was interviewed in April 2016 by Ethical Systems on law, ethics and business. With Steve Priest, he also released a free e-book on Ethics Exchange: Conversations on Behavior, Ethics and Compliance. Additionally, Kaplan published a comprehensive index of over 50 posts from his Conflicts of Interest blog.

He also co-chaired a working group of Ethics and Compliance Initiative members that published a benchmarking report on conflicts of interest compliance practices as well as the Practising Law Institute's Advanced Compliance & Ethics Workshop.

Jim Lager delivered a presentation on conflicts of interest at AGA's 2016 Internal Control and Fraud Prevention Training seminar.

Lager also served as a panelist for a New York State Bar Association presentation on "Understanding the moral compass of in-house lawyers" in July.

He authored, with ES CEO Azish Filabi, a piece in Corporate Counsel on "Professionalism and Ethical Leadership From General Counsel's Suite."

David Mayer published a number of new articles in his Fast Company column and delivered a Lightening Round presentation on "Does the Moral Case Work at Work?" at Ethics By Design in June.

He also published research in Harvard Business Review on when whistleblowers are celebrated or vilified.

Hal Movius will publish a new book in January 2017 entitled Resolve: Negotiating Life's Conflicts with Greater Confidence.

He discussed negotiation and ethics in an Ethical Systems interview over the summer and published a number of blogs on his website on conflict, negotiation and resilience.

Ann Tenbrunsel delivered a Lightening Round presentation at Ethics By Design on "The Ethical Infrastructure: Promoting whistleblowing intentions and behaviors."

She also presented on Blind Spots and/or behavioral ethics at the Academy of Management, in Switzerland (Moral Technologies Conference), Korea (Sogang University and Deloitte Korea), Santa Clara Markula Center for Ethics, Panama (ND Delegation), Mexico (ND Delegation) and Samaritan Health.

Linda Treviño published a number of important articles and encyclopedia entries including:

The Ethics of Managers and Employees. Routledge Companion to Business Ethics.

Role Model. Sage Encyclopedia of Business Ethics and Society, 2nd edition.

Ethical Culture and Climate. Sage Encyclopedia of Business Ethics and Society, 2nd edition.

Corporate ethics and compliance programs. Sage Encyclopedia of Business Ethics and Society, 2nd edition.

Ethical leaders and their followers: The transmission of moral attentiveness and moral identity, 26: 95-115. Business Ethics Quarterly.

Ethical leadership and follower voice and performance: The role of follower identifications and entity morality beliefs. Leadership Quarterly. 26: 702-718.

She also co-planned and served as raconteur for the first Behavioral Ethics Pecha Kucha Professional Development Workshop held at the August 2016 Academy of Management meeting in Anaheim CA and co-presented a plenary at Ethics By Design on "Ethical Culture: Defined and measured."

The 7th edition of her seminal textbook, Managing Business Ethics, is scheduled to be published next year.
Additional Resources:

Support Ethical Systems and help us make ethics easy.

https://www.ethicalsystems.org/wp-content/uploads/2016/12/Head-shots_MONTAGE2016.jpeg
1200
739
Jeremy Willinger
https://ethicalsystems.org/wp-content/uploads/2020/04/ES-logo-final-white.gif
Jeremy Willinger
2016-12-18 22:14:03
2020-03-26 16:57:07
2016 Collaborators in the News: A Year of Many Achievements