Azish Filabi Presents on Measuring Corporate Culture at the 2018 OECD Conference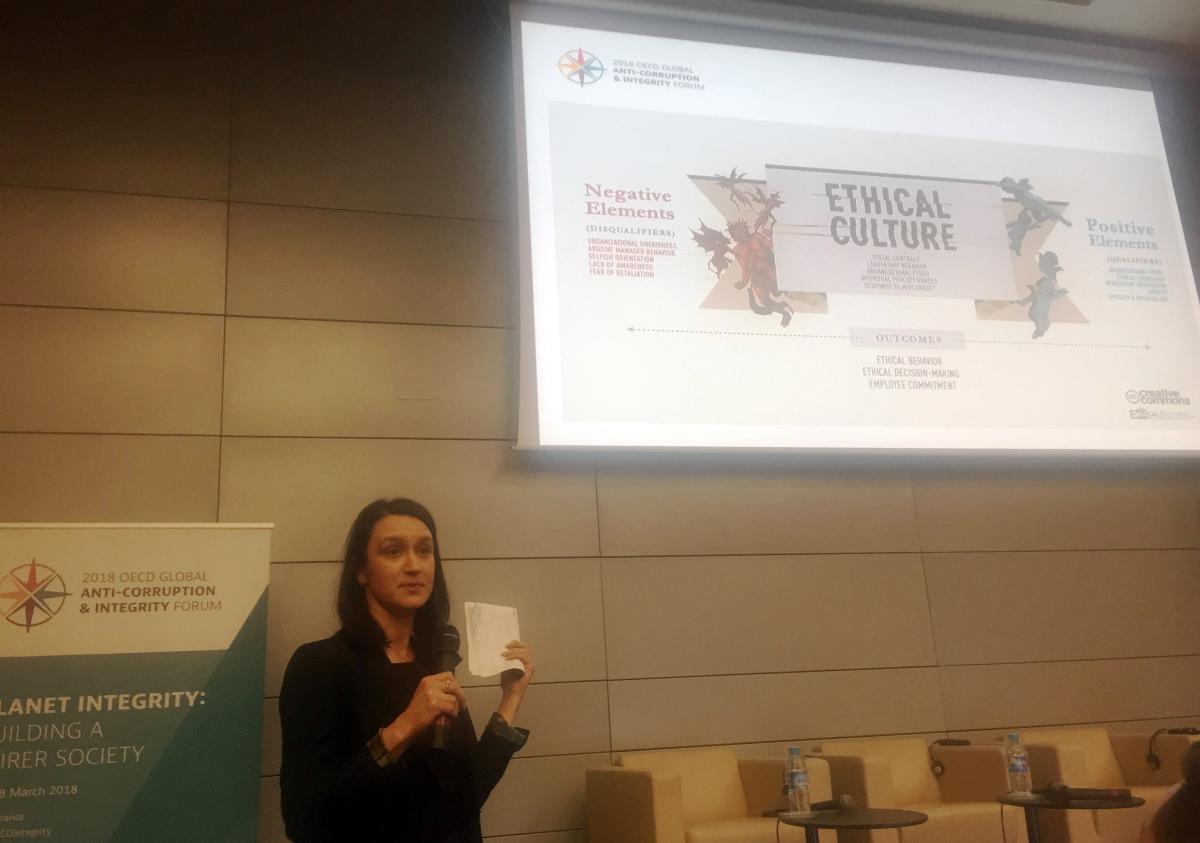 Last week, the Organisation for Economic Co-operation and Development (OECD) had its annual Anti-Corruption and Integrity Forum at their headquarters in Paris. Entitled Planet Integrity: Building a Fairer Society, over 2,000 attendees discussed how integrity plays a role in improving economic inequality, enhances the benefits of public policies and government programs, and more broadly equalizes the gains of globalization.
Ethical Systems won one of the OECD Research Edge competition awards. The paper, co-written by Caterina Bulgarella and myself, provided the summary of our culture assessment framework, which demystifies an often complex organizational issue: how to define and measure ethical culture.
How can you know whether you work in or lead an ethical culture? This research presents a framework for understanding the norms of behavior in your organization (not the formal systems, which is the subject of another, ongoing study), finding that there are five dimensions of culture that you should be assessing and actively managing:
social contract;
leadership behavior;
organizational ethos;
individual perceptiveness; and
employees response to observed misconduct.
You can read more about it on our website, and the OECD will soon publish the papers on-line.
Ann Tenbrunsel, Professor at the University of Notre Dame, Mendoza School of Business and Ethical Systems Collaborator, was a panelist for the session on Behavioral Insights for Integrity. That panel began with the premise that the traditional approaches to integrity management are not effectively addressing what we know about human behavior – which is that most of us believe we are more ethical than we actually are in practice, and that we are highly susceptible to wrongdoing when influenced by our social context.
Moreover, the threat or presence of a sanction (such as a fine, penalty, or other negative repercussion) makes it more likely that we engage in cost-benefit analysis of our actions and could therefore in some cases increase misbehavior. The panelists, which included, among others, Alison Taylor from BSR and Saugatto Data of Ideas42, discussed the value of integrating behavioral science into policymaking, both at the government level and at the corporate level.
Compliance programs often mirror the enforcement-led procedures of government policymakers, as described by Todd Haugh in an essay in the Stanford Law Review Online on this topic. They can thus inadvertently integrate the same enforcement-led techniques that prosecutors use to deter misbehavior among corporations more broadly, thus leading to a compliance arms race, as I've described here in an earlier blog post.
I was encouraged and inspired by meeting new and old colleagues in Paris who are continuing to expand upon and refine the ways that we collectively are building global cultures of integrity.
---
Further Reading:
https://www.ethicalsystems.org/wp-content/uploads/2018/04/pictures_azishOECD.jpg
843
1200
Azish Filabi
https://ethicalsystems.org/wp-content/uploads/2020/04/ES-logo-final-white.gif
Azish Filabi
2018-04-04 16:10:04
2020-03-26 16:56:05
Azish Filabi Presents on Measuring Corporate Culture at the 2018 OECD Conference