Robert Bilott, Author of "Exposure," Reflects on His Fight Against Corporate Arrogance

In October 1998, a Parkersburg, West Virginia, cattle farmer named Earl Tennant noticed that his livestock was dying from a strange illness. Half of his cows and their calves had mysteriously died, and the rest had been born deformed and dead. Strangely, even buzzards wouldn't eat the carcasses.
Using his own camcorder, he carefully documented the deaths of his cows, the internal organs he'd removed that looked like experiments in a pathology lab, and the deformities he'd seen. Then he boxed up several-dozen videotapes and notebooks full of records and, in October 1998, drove them to Cincinnati and handed them to environmental attorney Rob Bilott, who agreed to examine the evidence and get back to Tennant.
Bilott soon discovered that Dry Run Creek, the offshoot of the Ohio River that Tennant's livestock drank from, was full of C8, an industry name for perfluorooctanoic acid or PFOA, one of the main components of Teflon. He also learned that a DuPont factory that manufactured nonstick pans seven miles from Tennant's farm had been dumping millions of pounds of Teflon into the river for years—and that chemists within DuPont had made several attempts to expose the plant's actions but were silenced.
We are the science. We invented this field. How dare you suggest that we're not interpreting this correctly.
In the summer of 1999, Bilott filed a lawsuit against DuPont on Tennant's behalf but was met with a quick setback: The veterinarians assigned to the investigation by the EPA and DuPont ruled that the deaths of Tennant's livestock were caused by "poor husbandry." Additionally, because DuPont was Parkersburg's major employer, townspeople turned against the Tennants for suing the company that controlled their livelihoods. At that moment, Tennant and Bilott had no idea they were signing up for a bruising battle with one of the largest and most successful companies in the world.
In 2014, after more than 15 years of comprehensive medical studies, a personal health crisis, and the deaths of the plaintiffs he sought remuneration for, Bilott prevailed. His litigation efforts yielded more than $671 million dollars in damages for approximately 3,500 people. DuPont also settled with the EPA, agreeing to pay a mere $16.5 million fine for failure to disclose their findings about C8, a toxin that is now estimated to be present in 98 percent of the world's population. The saga was the subject of a recent Netflix documentary, The Devil We Know, as well as the major motion picture, Dark Waters, in which Bilott is played by actor Mark Ruffalo.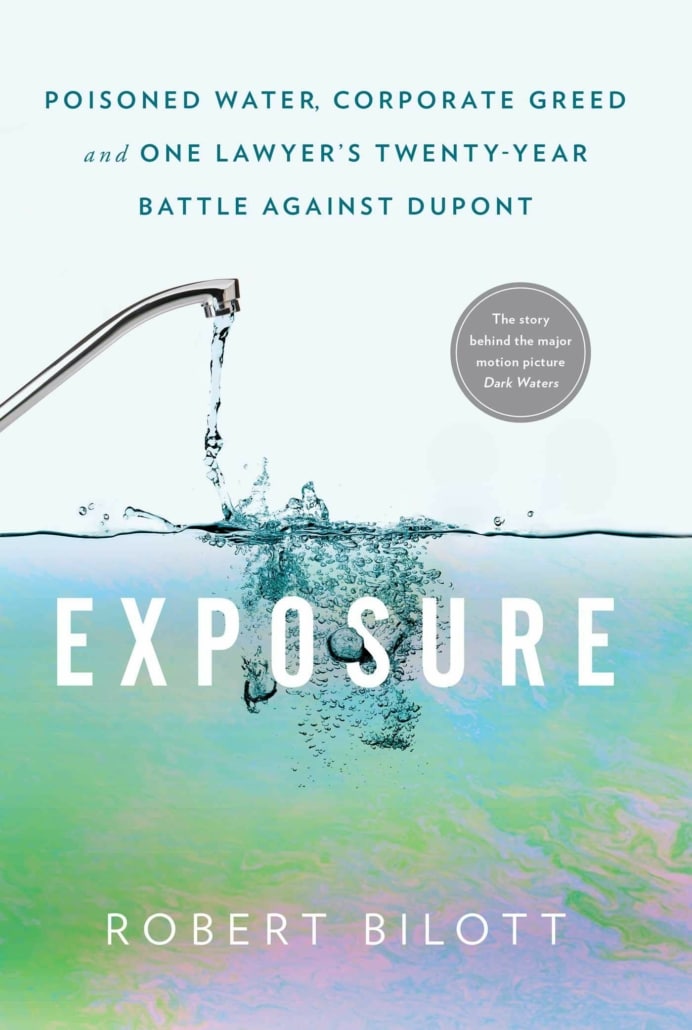 Awed by Bilott's perseverance in the face of such long odds, I interviewed him as part of the research for my book To Be Honest: Lead with the Power of Truth, Justice and Purpose. I wanted to hear what the author of Exposure: Poisoned Water, Corporate Greed, and One Lawyer's Twenty-Year Battle Against DuPont had to say about corporate arrogance, the importance of justice, and the high price of doing the right thing.
Bilott admits that he never would have predicted DuPont to resist owning up to their behavior. He naively assumed that "if people see the facts, if everybody could just look at the facts, they'll get it, they'll understand it." That was the way he saw the world, and he couldn't comprehend others not doing the same. "It just was remarkable to me that even after we set up this very scientific process with independent scientists who analyzed all the data, all of it, and to reach these decisions that we all agreed, this was the way it would be done. Yet then we saw folks standing up and saying that either this process was somehow [wrong] … or they disagreed with the results, or that frankly it never happened. Which was just amazing to me."
---
Subscribe to the Ethical Systems newsletter
---
If it seems too bad to be true, it just might be. With the benefit of hindsight, the company's unwillingness to admit responsibility perhaps wasn't so unexpected. At the time DuPont was one of the most respected corporations in the U.S., maybe even the world, and they were known for employing some of the brightest scientists on the planet. In the view of many—least of all DuPont executives—they were practically untouchable. "This is a company that had prided itself on being the science company. And in fact, had kind of invented a lot of the scientific processes that the regulatory agencies used. DuPont obviously was around many years before the EPA even existed," says Bilott. "To have folks questioning the conclusions that their scientists were making, or that their people interpreting their scientists were making was just something that would not be accepted at all. 'We're not going to have anybody questioning [our views]. . . . We are the science. We invented this field. How dare you suggest that we're not interpreting this correctly.'"
Even Bilott couldn't believe what he was hearing when Earl Tennant first walked into his office. In his memoir, Exposure, he writes of Tennant's visit, "I was skeptical. You might say I'm professionally skeptical. DuPont was not some fly-by-night company operating under the radar of regulators. They were one of the biggest corporations in the world, nearly 200 years old and highly respected, a company widely considered an industry leader." 
Reputation can have a dark side. Such a storied history can certainly breed greatness, but it can also breed arrogance. Admitting wrongdoing would mean drilling through layers of biases and preconceived notions steadily reinforced over the years. "In this case, the financial risk was there, but there was also ego," says Bilott. It may have taken years, but DuPont paid dearly for its denial. The tragic irony, of course, is that the financial and reputational costs the company suffered are so many times greater than the costs they would have incurred if they'd just addressed the situation when it first came to light.
It's not that there weren't off-ramps along the way. DuPont had scientific studies going back to the 1950s that showed the dangers of C8 and how it caused cancer in laboratory animals; by the late 80s, they had evidence it caused cancer in humans. Their files also contained internal reports urging that wastewater from the C8 manufacturing process should never be released into public water sources. And yet, they refused to admit they could be wrong, at least publicly.
(Having a strong reputation doesn't need to breed arrogance. Consider how Patagonia responded after they learned that the cotton they were using for their outdoor apparel was harming employees and the environment. Within just a few years, they completely converted to 100-percent organic cotton, which is far less toxic and polluting.)
A sense of justice can be learned. Despite his incredibly trying ordeal, Bilott still believes that companies and employees can learn to do the right thing. Like so much else in life, change begins with honesty—and acceptance. "Be open to receiving the facts and to be able to talk to people and accept what they're telling you," he says. Leaders should "provide an environment where people are free, or at least feel that they're free, to come in and actually convey the truth and the facts of what's really going on without feeling like they've got to present it in a certain way. It sounds simplistic, but you just have to be willing to listen to people with an open mind and not in the context of some self-created construct in which the data has to fit into a certain peg or you don't pay any attention to it. You've got to be willing to reassess the whole thing if you need to."
Simplistic, maybe. Easy to do? If the once-mythical DuPont Corporation is any guide, no.
Ron Carucci is an Advisory Board member of Ethical Systems as well as cofounder and managing partner at Navalent, working with CEOs and executives pursuing transformational change for their organizations, leaders, and industries. He is the bestselling author of eight books, and his work has been featured in Fortune, CEO Magazine, Harvard Business Review, BusinessInsider, MSNBC, BusinessWeek, and Smart Business.
Reprinted with permission from Forbes.
https://www.ethicalsystems.org/wp-content/uploads/2021/07/exposure-9781471189623_hr.jpg
1425
1400
Ron Carucci
https://ethicalsystems.org/wp-content/uploads/2020/04/ES-logo-final-white.gif
Ron Carucci
2021-07-16 17:37:05
2021-07-16 17:37:06
Robert Bilott, Author of "Exposure," Reflects on His Fight Against Corporate Arrogance