An MIT Researcher Watched a Hospital Experiment with Shared Leadership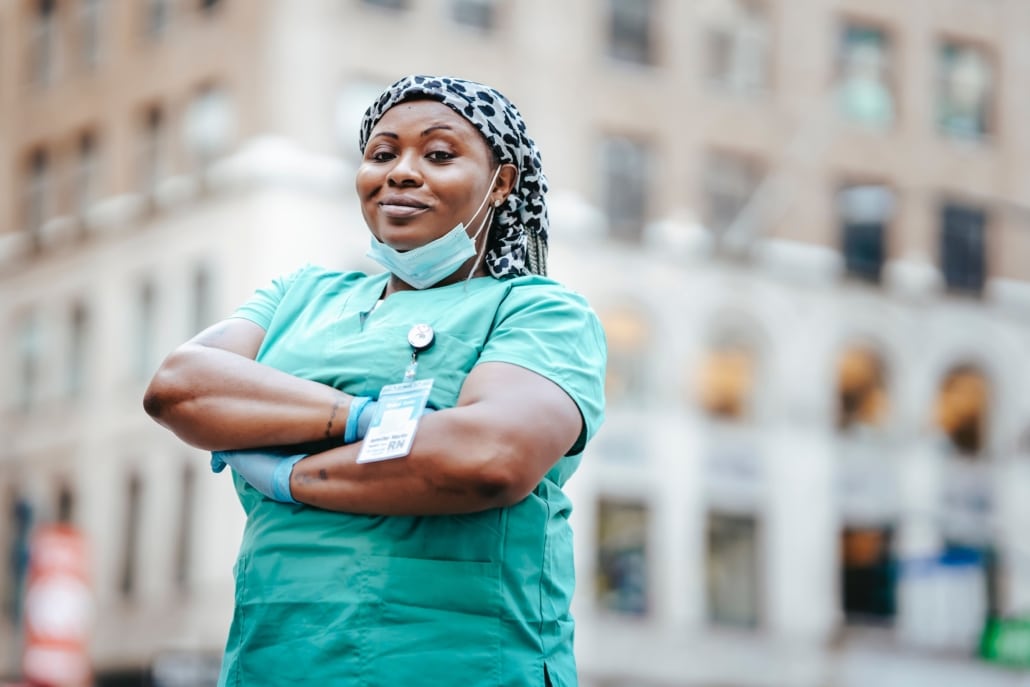 The social psychologist Debra Mashek, a self-styled "collaboration maven," eloquently distilled, on a recent episode of Breaking the Fever, what that much-used c-word truly means. Worthwhile to do, she said, because the term, as a label, often gets thrown around haphazardly, doesn't it? People get together, having some vague ambition to work with one another on a shared goal, and happily call that a "collaboration." One can tell that Mashek finds this situation slightly annoying. True collaboration is a much more intimate sort of behavior than many might suspect. Indeed, her insights into this are grounded in her study of romantic relationships.
"The key aspect of collaboration is that we care about the needs and interests of the other person or entity, that we actually elevate them as on par with our own, and that we take efforts to learn from the other," Mashek said. "We value them as knowledgeable, as having expertise that we're willing to engage, and we're willing to be vulnerable."
A perfect storm for loss of autonomy and work intensification for less powerful actors.
I thought about this when I came across a recent study in Organization Science. The author, Kate Kellogg, and Mashek are drawn to similar work. Kellogg has, over the last decade, according to her academic page, "partnered with for-profit and not-for-profit organizations to help improve collaboration among diverse experts, use technologies to improve internal knowledge sharing, and manage the human aspects of new technology implementation in order to thrive in fast-paced and uncertain contexts."
A fine example of such a "context" would, for obvious reasons, be a hospital. And that's where, for one of her latest research projects, Kellogg, a researcher at the MIT Sloan School of Management, spent almost two years of her time. She watched as teams of doctors, medical assistants, nurses, and secretaries worked together through an interesting transition—adapting to new tech meant to improve patient care. This is worth studying from an ethical workplace perspective. As Kellogg notes at the beginning of her paper, "The increasing use of digital technologies in combination with the lack of labor protections in many contemporary organizations is creating a perfect storm for loss of autonomy and work intensification for less powerful actors."
I've experienced this sort of thing myself, albeit to a relatively pretty insignificant degree. The publication I work for was acquired by a new company that changed the way I paid freelance writers. I was to bring them into an online payment platform that took a little getting used to, but made handling payments, for the new finance people, much easier. At first, using this felt like more work, compared to what I'd done before, and the platform sometimes confused writers, prompting me to spend time troubleshooting issues with them. That experience helped me appreciate what Kellogg is getting at: Workers with little power are often at the mercy of more senior employees who benefit from newly introduced tech and pay little mind to how it affects others, who may have a hard time adapting.
Specifically, according to a June press release for the study, the tech was meant to offer decision support, by flagging when patients needed vaccinations, diabetes tests, and pap smears. Before, primary-care doctors may have offered those procedures after visits with patients. The software, in theory, made those things part of the preclinical patient routine, as needed. But in practice bringing in that tech significantly added to medical assistants' workload, since they're in charge of using the alerts and communicating with patients. When software recommendations didn't align with a doctor's judgment about what a patient needed when, it would fall to medical assistants to find out more about a patient's medical history.
In her paper, Kellogg is clear about the role she sees herself (and professionals like Mashek) playing. "Scholars of digital innovation, institutions, and professional work can help here because they highlight the potential for in situ, collaborative rather than conflictual role reconfiguration, and for ongoing, rather than periodic, negotiation during digital technology introduction and integration." In other words, when people are trying to use tech to improve their work, they can avoid a lot of bickering and frustration if they're willing, in Mashek's sense of the term, to collaborate—to listen to one another and truly value the points everyone raises.
---
Subscribe to the Ethical Systems newsletter
---
In the hospital's case, this meant, to Kellogg, implementing an "experimentalist" form of governance. "If you want to get value out of new digital technology, you need to allow local teams to adapt the technology to their setting," Kellogg said. "You also need to form a central group that's tracking all these local experiments, and revising processes in response to problems and possibilities. If you just let everyone do everything locally, you're going to see resistance to the technology, particularly among frontline employees."
Having that central group, Kellogg argues, allows organizations to overcome some familiar challenges. Lack of a widespread speak-up culture, for one. Plus "threshold problems," like getting enough people to sign on to new practices so that they're useful. There's also free-rider problems—doctors, for instance, enjoying the fact that medical assistants are doing a wider range of work tasks but not reciprocating in turn, or doing what they need to do to free up medical assistants' time.
These problems become more pressing as digital tech increasingly pervades organizations. People can now more and more tweak software in ways that reconfigure work practices of less powerful actors. "These changes, in combination with declining union membership and bargaining power, and the lack of an overarching authority who can enforce cooperation among federated professionals in many modern organizations, may lead to an increase in digital technology-related participation problems, threshold problems, and free rider problems during digital technology introduction and integration," Kellogg writes. "This, in turn, may accelerate loss of autonomy and work intensification for less powerful actors in our contemporary economy."
Kellogg's concept of experimentalist governance extends ideas on "collaborative community." Researchers have used this concept to explain how mutually beneficial collaboration between professionals and less powerful actors can be realized in workplaces today, by taking advantage of organizational structures characterized, Kellogg writes, "by a shared purpose, an ethic of contribution, scalable processes for coordinating people's efforts, and an infrastructure in which collaboration is valued and rewarded." She notes how, recently, researchers have delineated ideas of shared leadership in which managers "reconfigure regulative, normative, and cognitive institutional pillars to enable professionals' enactment of radical innovation."
Mashek, for her part, thinks business is entering a new era of shared leadership. "Even the idea of the leader, at least in some sectors, is outdated. Instead it's shared leadership: You look at the situation, what's called for right now, and who steps forward with the right expertise and skill set for that moment," she said, on Breaking the Fever. "Things shift so quickly. We know it's a bad idea to try to design for the world as it is right now, and we know we can't design for the future world because we don't know what that's going to look like. So instead, if we think about leadership as engaging in relationships with diverse, smart, talented, good-spirited others, then when the world shifts in those unknown ways, it's almost like a dance circle—the right talent can come into the middle and lead when it's time and then step out and release that control. But that takes an incredible amount of trust."
Brian Gallagher is the Communications Director at Ethical Systems. Follow him on Twitter @bsgallagher.
Lead image: Laura James / Pexels
https://www.ethicalsystems.org/wp-content/uploads/2021/06/mashek-shared-leadership-featured-scaled.jpeg
2201
2560
Brian Gallagher
https://ethicalsystems.org/wp-content/uploads/2020/04/ES-logo-final-white.gif
Brian Gallagher
2021-06-14 15:10:12
2021-06-14 15:12:18
An MIT Researcher Watched a Hospital Experiment with Shared Leadership