How This CEO Grew His Luxury Brand During a Pandemic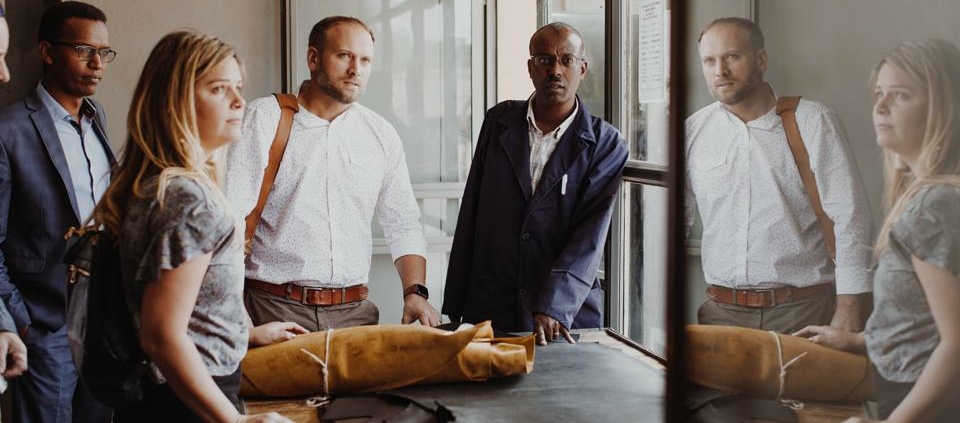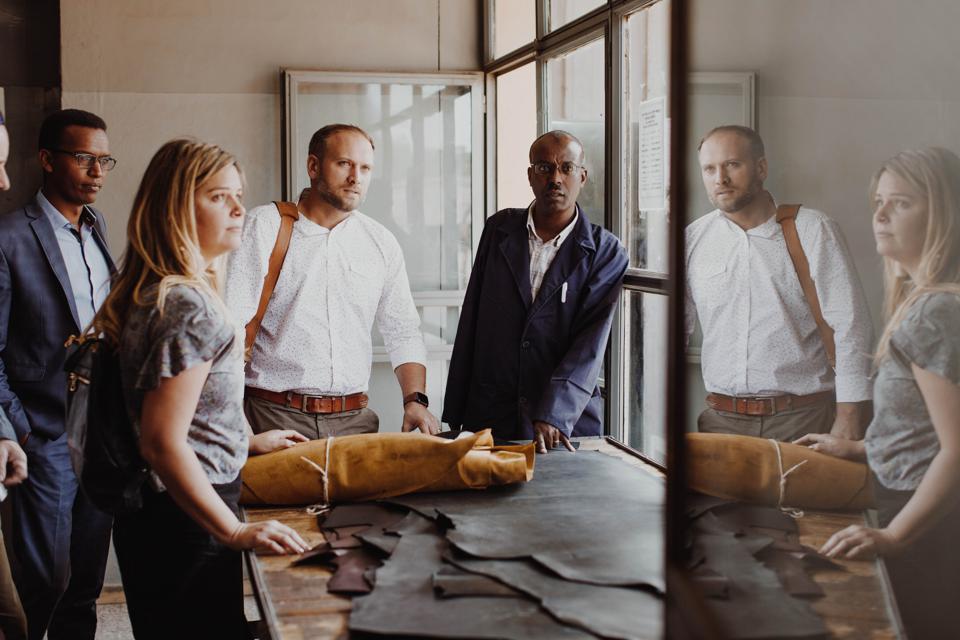 Beleaguered leaders are grasping for ways to keep their organizations focused and motivated. The workforce, feeling whiplashed like accordions—some called back to work, some staying at home—has reached an all-time level of pandemic-fatigue. With promises of a vaccine still in the distance, anxiety levels are surging along with case numbers.
Fewer industries have been hit harder than luxury retail. With retailers and brands like Neiman Marcus, J. Crew, Lord & Taylor, Brooks Brothers, and John Varatos, filing for Chapter 11, its clear that as people prioritize their precious few discretionary dollars, indulgence in high-end fashion isn't hitting the top of the priority list.
In 2020, fashion brands cut $43 billion dollars of purchasing from their budgets. That means the downstream ripple effect on designers and manufacturers of those products felt the pain just as much. So how, in this environment, does a CEO take a startup luxury brand and product, and grow it? 
I spoke with Ian Bentley, CEO of Parker Clay, a certified-B Corps company, and maker of luxury leather goods. This year, by all accounts, could have been the end of this niche company, founded in 2014. Yet they doubled their business. To understand this, you have consider the origin story of the company, and the purpose on which it was founded.
"What that showed me is that our purpose ripples through our community."
"In 2012, Bentley says, "Ethiopia became our home. We adopted our second daughter while living in Addis Ababa, the capital city, and it was there that we saw firsthand what many news outlets in America would never bother to cover. We saw how many young women, without opportunity or education, ended up in a life of prostitution, or even sold into human trafficking. While living there, we worked with organizations empowering these women through rehabilitation, skills development, and job creation. Meeting these women and witnessing the transformation that can come with just a teaspoon of opportunity deeply moved and inspired us."
One day, Bentley was looking for a birthday gift and came across a leather bag. "The artisans' craftsmanship was beautiful," Bentley said. "We learned this leather was not only ethically sourced, but some of the highest quality in the world. The cogs started to turn, and an idea was born—could we bring these beautiful products to the world, create jobs to empower vulnerable women to become economically independent, and protect traditional, sustainable, and ethical craftsmanship all at once?" 
Parker Clay, named after Bentley's two sons, was born.
The company has nearly 160 employees in Ethiopia, owns their own factory there, and is creating jobs and meaning in the lives of those they employ. Over 80 percent of them are women. Their operations in the United States, largely the go-to-market arm of the company, employs around 25 people. By the end of 2020, they expect to have over 200 employees.
"When you face a crisis, you have to ask yourself and your team, 'What would the world lose if our company disappeared?'" Bentley says. "For us, the answer is the heritage of a nation. The future of women leaders from Ethiopia. The chance for women to be free from sexual exploitation, and women being forced to make horrific choices to survive." It's about way more than just high-quality leather goods. "When you know how much is at stake," he says, "you fight harder for it."
After returning from a routine trip to Ethiopia in March, the pandemic's lock down hit. Bentley was faced with a choice. He was getting advised to "act like a wartime CEO and cut costs." But he says he couldn't give into that kind of thinking. "I set up daily calls with the team in Ethiopia and in the U.S. We checked on each other. I knew I had to live by the promise we've made to each other. Our brand tagline, 'We Go Together,' comes from the African proverb, 'If you want to go fast, go alone. If you want to go far, go together.'" They felt they had no choice but to live by that proverb. "It was intended for tough times like these."
If you want to harness the power of purpose and help your organization thrive as the pandemic rages on, here's what you can take from Bentley's playbook.
Engage your customers as a community. To avoid cutting costs, Bentley had to get creative in ways to infuse cash into the business. He knew VC funders were holding tight to cash, so that was an unlikely route to capital. 
"I was in my garage one day, ironically where Parker Clay started, thinking of ways to bring people into the story, and 'rally our community,'" Bentley says. He decided to invite them into the challenge, creating a pay-it-forward plan for their community to join the story. "Back in March," Bentley says, "we told them that if they gave us $500 now, we would give them a gift card for $500 in September and then another $500 in January, 2021″—a promise to double their money. Bentley admits it was a high risk strategy, first and foremost betting that he would have the capital, and the inventory, to fulfill the promise nine months later.
But when people heard the need, they rallied around the cause. The offering was sold out within a few days. "People are using their gift cards to purchase gifts for others," Bentley says. For example, a group of 20 women chipped in to give their friend a Parker Clay backpack while her son was going through cancer treatment. "The woman wrote, 'While I was going through my son's cancer treatments, I knew there were 20 women who had my back,'" Bentley says. "What that showed me is that our purpose ripples through our community. Yes, we have beautiful products, but more than that, we create beautiful meaning in people's lives." To date, Bentley says, Parker Clay has paid out all of the first round of gift cards, and is on track to pay out the second round in January. 
How can you engage those you serve more intimately? How can you connect your team to those you serve and create a stronger bond of community with them? How can you rally your stakeholders around your story to sustain momentum, revenue, and focus?
---
Subscribe to the Ethical Systems newsletter
---
Care twice as much for people. While Bentley has worked to create a caring community among his employees, he is still driven to achieve results. Sometimes to a fault, he admits. "Every person on my team this year has faced the death of a close family loved one. That's a lot of pain," he says. "They can't ever wonder if I care more about our mission than I do about them. And I know there are times I fall short on making it clear." Recently, someone on his team lost his grandfather and came and asked for time off. They are heading into the most crucial season of any retailer—the holidays. So they're short-handed.
"It's an all-hands-on-deck moment, and one of my key players needs to be with his family," Bentley says. "Despite every instinct in me to press forward on our goals, I knew I had to drop everything and just be with him." They went for a walk, and Bentley asked him about his grandfather, Earl. "I heard stories about fishing and the impact Earl had on my team member," Bentley says. "As much as I could, I stepped into that loss with him. When the barista called out the order, he said, 'Two coffees for Earl.' I saw the tears in my team member's eyes as he realized I'd ordered them in Earl's name, and we sat and drank in his honor." 
Who on your team is hurting? Do you have a clear sense of where people are at? Have you created any doubt in their minds about how much you care about them apart from your expectations of them? 
Remain coachable on how well you live your purpose. Bentley chose this year to double down on his own development. He began with a comprehensive assessment from his team, receiving some tough feedback. "I needed to hear it," he says. "I learned that sometimes I am so mission-driven that I hurt the mission, and I hadn't realized it. While I care deeply about the women whose lives we are impacting, if I hide behind that purpose to justify my drive for results, then I'm part of the exploitation, not part of ending it." He's had to dig deep to learn to balance his focus on results with creating a culture in which everyone can thrive. "I am making some progress," he says, "but I have a long way to go." 
I asked what advice he has for leaders facing tough times. "You have to focus on your own leadership," he says. "You can't assume things are fine. If you aren't getting honest feedback about how others are interpreting your leadership, you're already in trouble." 
What feedback have you received this year about your leadership? How confident are you that your messages, decision making, and vision are being metabolized in the ways you intend? How strong are your relationships, given the stress on them? Could there be a gap between your intentions and your impact wider than you see?
Don't fall in love with your own voice. Celebrities the likes of Mandy Moore have endorsed Parker Clay's products. Whoopie Goldberg featured their products on a holiday episode of The View. One major airline, in celebration of their partnership with another large company, ordered a large custom batch of Parker Clay bags to give away at an event, and had them appear on an airport luggage carousel. Such major wins can go to a leader's head. 
"You can't truly live out your purpose if you become complacent," Bentley says. "You can't just listen to your own ideas or the ones that have worked before. You have to invite dissenting voices to the table to increase creativity. He's had to learn to appreciate different ideas and departures from what he finds comfortable and effective. "Whether from my team, or from outsiders," he says, "I've realized that I have to intentionally push myself to get outside of my echo chamber to get the best ideas, especially ones that aren't mine." 
What are your major sources of ideas? Whose voices do you listen to, and whose voices do you ignore? What unorthodox sources of insight do you seek? What past successes are you clinging too tightly to, hoping to repeat? 
Embracing purpose instead of panic, though counter-intuitive, may be your best path through the pandemic. And as is the case with Parker Clay, there are rewards to be reaped.
In the research for my forthcoming book, To Be Honest: Lead with the Power of Truth, Justice & Purpose, I learned that brands who have a clear commitment to improving their consumer's quality of life outperform the stock market by 120 percent. Over the last decade, purpose-driven brands have seen their valuation skyrocket by 175 percent. In one study of 28 companies over a 17-year period, purpose-driven companies grew by 1,681 percent in comparison to the S&P 500 average over the same span, 118 percent. As a caution, don't just resort to "purpose washing," as many brands are doing—it backfires. Marketers are pulling every lever they can to put halos over their brands and companies, spinning a narrative of goodwill. Unfortunately for them, employees and consumers aren't buying it. While 84 percent of consumers consider trust when purchasing, only 34 percent actually trust the brands they buy from, and 53 percent believe brands are purpose-washing.
In sum, to withstand the hurdles of the pandemic, shift from defense to offense. Rally your organization around serving your customers, community, and each other in a more intensified way. Redouble your focus on your own leadership. Resolve that with your team around you and, together, you can and will go far.
Ron Carucci is an Advisory Board member of Ethical Systems as well as cofounder and managing partner at Navalent, working with CEOs and executives pursuing transformational change for their organizations, leaders, and industries. He is the bestselling author of eight books, and his work has been featured in Fortune, CEO Magazine, Harvard Business Review, BusinessInsider, MSNBC, BusinessWeek, and Smart Business.
Reprinted with permission from Forbes.
Lead image: Parker Clay
https://www.ethicalsystems.org/wp-content/uploads/2020/11/960x0.jpg
640
960
Ron Carucci
https://ethicalsystems.org/wp-content/uploads/2020/04/ES-logo-final-white.gif
Ron Carucci
2020-11-21 02:03:02
2020-11-21 02:03:03
How This CEO Grew His Luxury Brand During a Pandemic